Internet Modeler : First Look : Aviation
RSS News Feed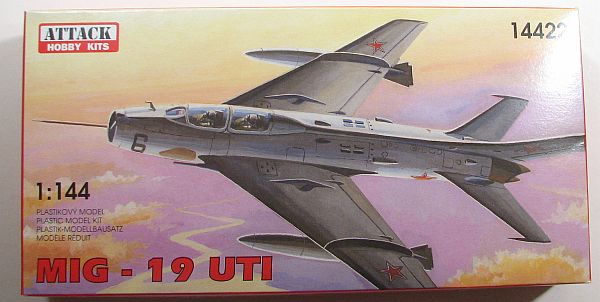 Attack 1/144 Shenyang JJ-6/MiG-19UTI "Dual Kit"
Introduction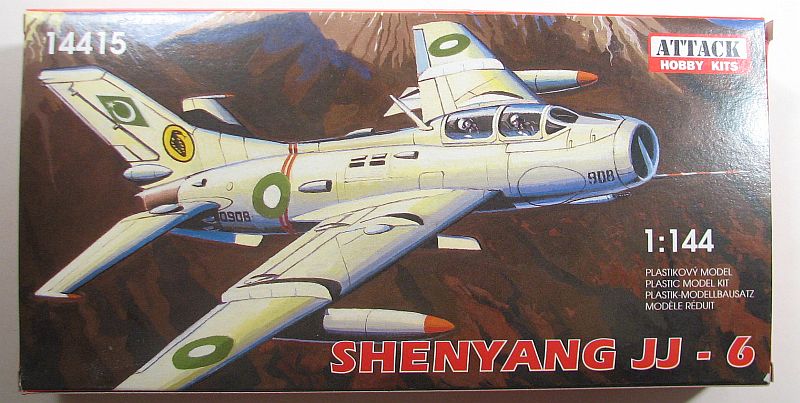 There has been some spurious drawings here-and-there, both in books and on the internet, of the purported MiG-19UTI. However, from all "real" indications there never was a MiG-19UTI. Sure, China converted their MiG-19 "copy" and created a two-seater, but Mikoyan never did.
There was one other thing China did, and created an export version of the JJ-6, the FT-6. They exported that to countries like Pakistan, Iraq and Bangladesh.
The Kit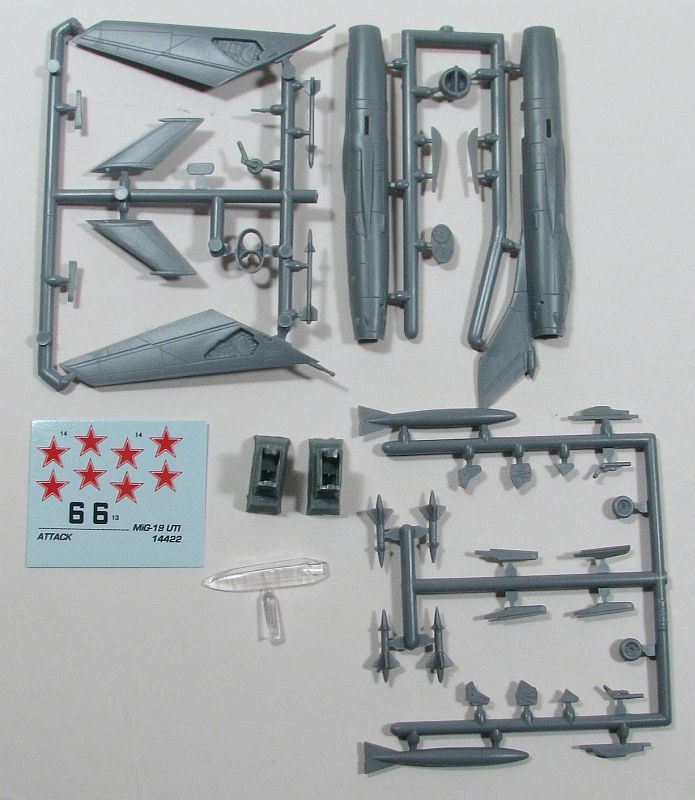 The Attack 1/144 Shenyang JJ-6 (and I won't be mentioning the MiG-19UTI much anymore) consists of 40 pieces of grey injected plastic, two resin cockpit tubs and one clear injected canopy (and remember, there are two kits so the actual parts count doubles). Decals - aside from the markings for the spurious MiG-19UTI - are for one Chinese JJ-6, one Iraqi FT-6 and one Pakistani FT-6. The decals look decent and in register.
Instructions are broken into three major steps. The first step consists of assembling everything into - and on - the fuselage. Work on the one-piece resin cockpit tubs (which are nicely molded and pretty detailed) to get them to fit, add weight to the nose (if needed - the instructions don't mention any) then glue the fuselage halves together. Once dry then glue the exhaust fans to the rear exhuast piece and glue that assembly and the nose intake to the fuselage. After cutting the cannons from the one-piece wings, glue those - and the horizontal tail pieces - to the fuselage and you now have a complete airframe.
Step 2 of the instructions have you glue most of the landing gear in place, along with the underwing pylons and external fuel tanks. Step three has you finish the landing gear and extra strakes to the underside of the fuselage. I would add the strakes, and probaly the pylons, but everything else should wait until the model is painted.
Conclusion
Aside from the fiction that is the MiG-19UTI, Attack has given us a very nice Shenyang JJ-6/FT-6 in 1/144. In fact, it matches most of the other "larger manufacturers" in the level of detail and finesse. It will look great once finished.
My thanks to Attack for sending the JJ-6 in for review.