Internet Modeler : First Look : Aviation
RSS News Feed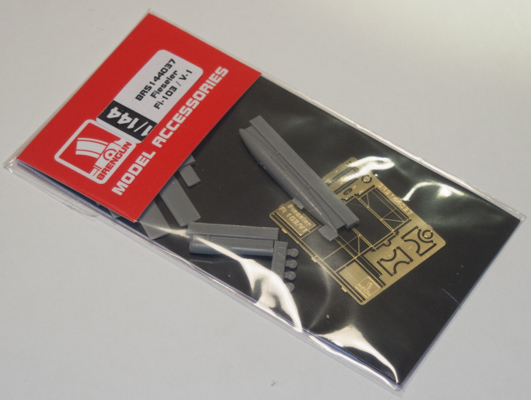 Brengun 1/144 Fiesler Fi-103-V-1
We've seen a number of V-1s in 1/144 from various manufacturers. If memory serves, I believe Miniwing was first followed by Owl. As you can see I built the Owl kit and it wasn't a bad model but unfortunately I had a display cabinet "fail" and it was one of the models that was totally trashed because of it. I was hoping I would be able to use the Brengun kit and finish it as a JB-2 but unfortunately there are no decals with the Brengun kit.
So, the Brengun 1/144 V-1 consists of ten pieces of resin and a photoetch fret with seven pieces. The photoetch fret is primarily the transport trailer and once folded and put together, resin wheels are added to it. To build the V-1 first separate all the resin pieces from their pour blocks and build appropriately. Attach the photoetch grill to the front of the pulse-engine and the generator prop to the front of its nose and the V-1 can be painted. As I mentioned above, there are no decals provided so either source your own, or build it as a "plain" rocket.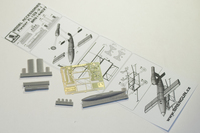 The most time-consuming construction, in my opinion, will be the photoetch trailer. The main part is a single piece of brass folded into many shapes so definitely have a tool to help with the folds, to keep them aligned and consistent. Once the trailer is folded together then add the rocket's supports to the trailer, the handles and then the resin wheels. Now you have a trailer that will support the V-1 model. Since this will be a pretty fragile piece, being all brass, I would definitely mount it on some type of base.
Now that there are/were four choices for the V-1/Loon, it's your choice as to which to buy. Of the ones I have reviewed, I like the detail of the Brengun kit the best, especially in the resin. I'm not very keen on the photoetch trailer but it is a solution. Remember the Brengun kit doesn't have decals so if you want a "plain" V-1, then this could be the one to buy.
I definitely send a "thank you" to Brengun for allowing me to review this kit.