Internet Modeler : First Look : Aviation
RSS News Feed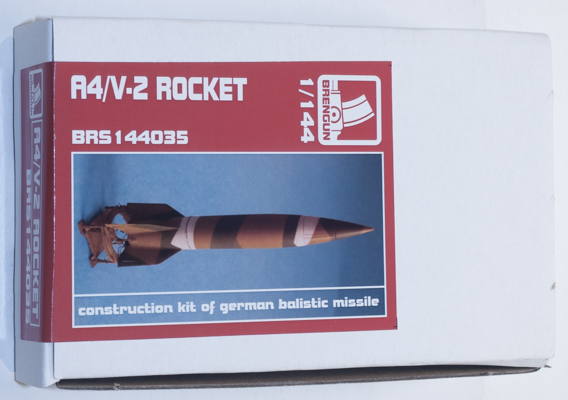 Brengun 1/144 German Rocket A4/V-2
Introduction
As we know, the German WW2 V-2 was definitely a terror weapon. There's an estimate there were 3000 launched beginning in September 1944 resulting in about 9000 deaths. After the war both the US and USSR acquired weapons and scientists to help with figuring out how the rockets worked, along with building them once again for those countries.
The Kit
The Brengun 1/144 A4/V-2 consists of 16 pieces of gray resin and a photoetch fret with 18 pieces. Included in those part counts are pieces that also make up the launch pad.
Construction shouldn't be too difficult, just ensuring all parts line up. Attach the four fins to the rocket body and the model of the actual V-2 is done. There are actually more pieces to the launch pad and consists of the blast shield; the main part to hold the rocket; legs (to which some of the photoetch pieces are added); "feet" for those legs; and more photoetch pieces that are used to help hold the rocket in place. If you take your time and ensure everything lines up finishing this kit shouldn't take long.
Conclusion
If you're looking for a 1/144 German V-2 then by all means pick up this kit. It shouldn't take long before you have a V-2 model on your shelf.
I definitely send a huge "thanks" to Brengun for sending this to review.