Internet Modeler : First Look : Aviation
RSS News Feed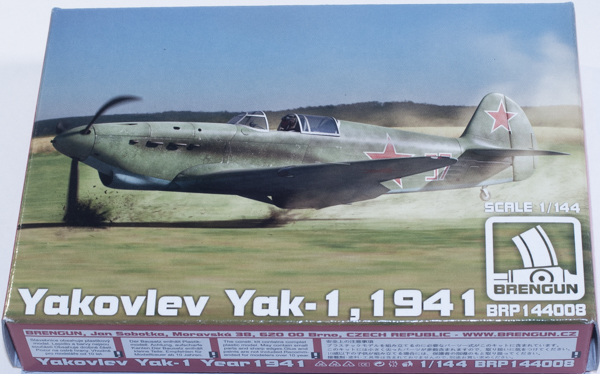 Brengun 1/144 Yak-1 1941
Since this is just a re-release by Brengun of the North Star 1/144 Yak-1, I'll send everyone to my North Star First Look. Everything I talk about in that article pertains to the Brengun kit, except there is only one Yak-1 model in the Brengun box and the decals are for four different Yak-1s:
21 IAP KBF P.D. Juravlev, August 1942 (AMT 4 Green and AMT 6 Black uppers, AMT 7 Light Blue undersides)
8 IAP, unknown pilot, Spring 1942 (AMT 4 uppers, AMT 7 undersides)
Leningrad, Spring 1942 (AMT 4/AMT 6 on top, AMT 7 underneath)
123 IAP, G.N. Zidov, Leningrad, Winter 1942 (AMT 4/AMT 6 with white spots and patches on top, AMT 7 on the bottom)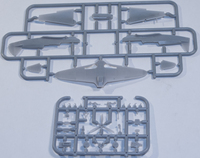 One thing I will mention, though. I have started one of the North Star kits and made the assumption parts would fit. I glued the finished cockpit to the lower wing, glued the fuselage halves together (after painting all the interior, of course) and then tried to glue the assembled fuselage to the assembled wing. This did not go well at all and I ended up destroying a lot of the cockpit pieces. What you want to do is still assemble the fuselage halves and glue the wings together and before gluing the cockpit to the wing, actually work on the wing-to-fuselage joint because you WILL need to sand and scrape this area for the wing to fit. One thing I might try next time (either with the second North Star release, or this Brengun release) is to try gluing the lower wing part to the fuselage prior to adding the upper wing parts to the lower wing. But on the first one I'll have to start scraping the wing root to get it to fit.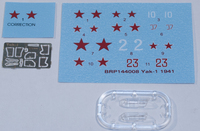 Aside from that glitch these are good looking models and will look great when finished. North Star released a second boxing of their Yak-1, this time with skis and appropriate markings. Whether Brengun follows suit is something to be seen in the future.
My thanks to Brengun for sending this to review.