Internet Modeler : First Look : Aviation
RSS News Feed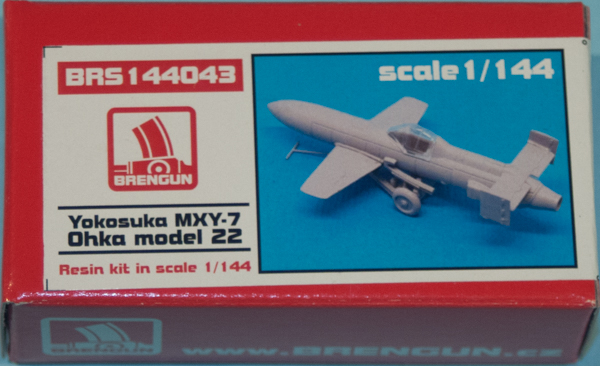 Brengun 1/144 Yokosuka MXY-7 Ohka Model 22
Introduction
From Wikipedia:
The Yokosuka MXY-7 Ohka ("cherry blossom") was a purpose-built, rocket-powered human-guided kamikaze attack aircraft employed by Japan against Allied ships towards the end of World War II. Over the course of the war, Ohkas sank or damaged three ships beyond repair, significantly damaged three more ships, with a total of seven U.S. ships damaged or sunk by Ohkas. However, none of the Model 22s were used operationally and only 50 were built.
The Kit
The Brengun 1/144 Ohka Model 22 consists of 21 pieces of resin, two vacuum-formed canopies (one a spare), a photoetch fret with 19 pieces, and a decal sheet for a single Model 22 (finished overall in IJN Mitsubishi Gray). The photoetch fret contains pieces for the cockpit, stabilizer control rods, items for the trailer, etc.
Unlike most aviation models, construction starts with assembling the trailer. I'm definitely glad Brengun supplied the trailer as it gives a good way to display the Ohka. There are eleven pieces of resin and two photoetch to glue together to create the trailer. Brengun recommends it be painted overall "green" with black tires.
The next instruction step has you assemble the cockpit. All items in the cockpit are photoetch which means you'll need to fold the seat, add the belts, fold the rear bulkhead and glue all that – and the photoetch control stick – into the cockpit. This construction step also has you glue the tail pieces together: the fins/rudders on each end of the horizontal tail.
Now that the tail is together, it and the wings are glued to the fuselage. This step also has you add the closed canopy which should be masked prior to painting. The last construction steps have you add a bunch of photoetch and glue the Ohka to the towing-trailer, something best left until both the Ohka and the trailer are assembled separately and painted.
Conclusion
Brengun's 1/144 Ohka is a really nice kit, and shouldn't be difficult to put together. Once assembled and painted, you'll have an excellent rendition of this "flying bomb" added to your 1/144 aviation collection.
Thanks are given to Brengun for the review "cherry blossom".