Internet Modeler : First Look : Aviation
RSS News Feed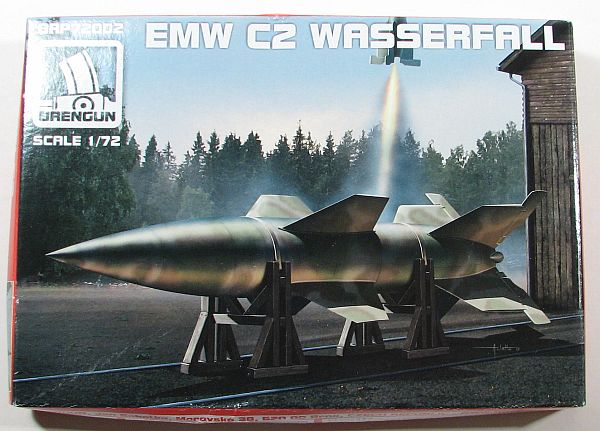 Brengun 1/72 EMW Wasserfall C2
Introduction
The Wasserfall was developed to be a surface-to-air missile which was designed around a smaller version of the V-2. The Wasserfall was meant to be left for long periods of time, fueled, so the liquid oxygen the V-2 used was not viable. Instead, the fuel designed was based around vinyl isobutyl ether and "red fuming nitric acid".
There were 35 test firings throughout its development and design phases, with approximately 15 considered unsuccessful. There is no documented evidence of these missiles actually being used against allied bombers, for which they were designed.
The Kit
The Brengun 1/72 EMW Wasserfall C2 consists of 31 pieces of gray, injected plastic; six pieces of resin; and a photoetch fret containing 3 pieces. While there are actually 39 pieces of plastic on the sprue, the "extra" pieces are for the trestle the rocket rests on, which are also provided for in resin. It's the resin pieces you truly want to use because the detail on them is much better than the plastic parts.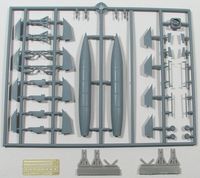 Construction is super simple. The first step is gluing the pieces for the vertical "holder" which when completed will hold the model standing up, if that's how you want to display it. But once that is finished then construction is easy. Glue the two, main body halves together; once those are dried and any seams eliminated, then you glue on the fins and all control surfaces. And now you have a Wasserfall in 1/72. If you want to display the model "horizontally", then you glue the trestle pieces together - three per end - and eventually glue those to the model (after painting the missile, of course). The photoetch pieces are the holder for the end of the rocket, that is attached to the base; and the other two pieces are "straps" to hold the rocket to the trestles, if wanting to display it that way.
There are four ways the instructions show how to paint this. The first is the prototype, consisting of the missile being finished in black and white. The first production machine is overall in RLM 02. The two, later production missiles are finished in overall Panzer Yellow, or a multi-color camouflage consisting of Panzer Yellow, green and brown.
Conclusion
It's great to see Brengun continue releasing 1/72 plastic, injected molded kits. After their Natter, it is good and unusual to see this Wasserfall release. A relatively simple kit that shouldn't take long to build, and definitely a conversation starter.
Many thanks to Brengun for sending the Wasserfall to review.