Internet Modeler : First Look : Aviation
RSS News Feed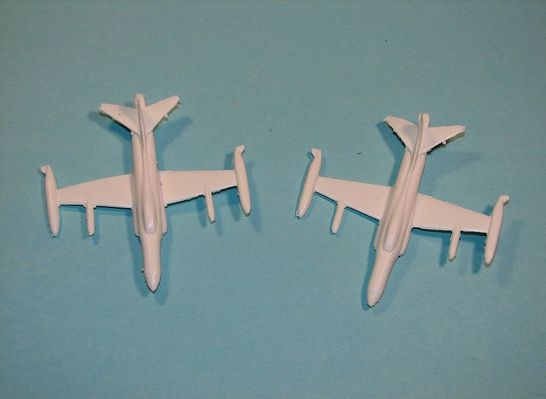 Don Schmenk 1/144 Lockheed F-94C
Introduction
Last month I previewed Don Schmenk's Yak-9PU in 1/144. He has followed the Yak-9 with three, including this F-94C.

The Kit
As with the Yak-9 this is a single-piece molding. Unlike the Yak-9, though, there are no separate parts - no landing gear, nothing. However, he does include a small stand to show the model off on. Also included are ALPS-generated decals for one scheme.
There is a little more warpage on this kit than the Yak-9 but nothing a bit of hot water can't take care of. Since there are no extra parts, once the warp(s) is/are taken care of then you can paint it up and display it! Toot suite!
Conclusion
An excellent way to get a 1/144 F-94C, and quickly at that, is to pick up Don Schmenks' model. Excellent!
Thanks to Don Schmenk for the review kits.