Internet Modeler : First Look : Aviation
RSS News Feed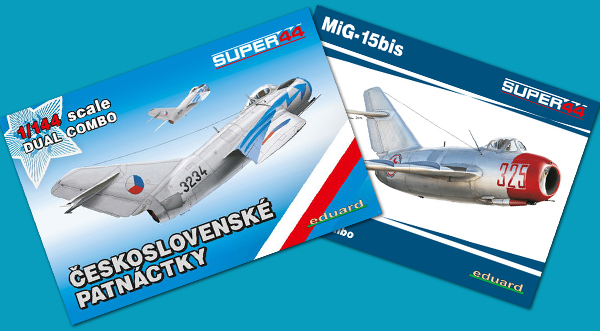 Eduard 1/144 MiG-15s
Introduction
The MiG-15 truly needs no introduction. There are plenty of references out there both on-line and in print.
When Eduard first announced a MiG-15 in 1/144 there was much rejoicing. Granted, the kit prior to their release, from Attack (which has been taken over by Mark I) isn't a bad kit at all, but the Eduard kit displays a much higher level of finesse.
The Kit
The first release from Eduard of 1/144 MiG-15s was their "Ceskoslovensky Patnactky" Super44 Dual Combo (kit #4441). In the box you receive two MiG-15s with markings for seven Czech aircraft. In addition Eduard provides masks for the canopy and the wheels. The markings cover the following Czech aircraft: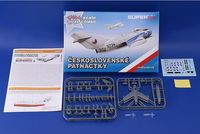 MiG-15bis, s/n 613234, flown by Capt. Oldrich Paldus, 15th Fighter Regiment, Cottbus AB, German Democratic Republic, August 30 to September 1, 1957
MiG-15, flown by Lt. Jaroslav Sramek, 2nd Squadron, 5th Fighter Regiment, Plzen-Line AB, Late March, 1953
MiG-15, 1st Fighter Division, Ruzyne airtport, September, 1955
MiG-15bis, 11th Fighter Regiment, ca 1957 - 1958
MiG-15bis, 9th Fighter Regiment, Bechyne Air Base, 1958 - 1959
MiG-15bisSB, 30th Fighter-Bomber Regiment, Hradec Kralove / Ceske Budejovice Air Bases, the 1970´s
MiG-15bis, flown by Capt. Frantisek Garaja, 6th Fighter-Bomber Regiment, Sliac airbase, August, 29, 1964
The second release is a MiG-15bis Dual Combo (kit #4442) and again includes two kits. This one contains markings for five MiG-15bis: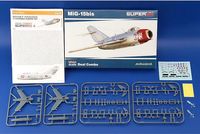 MiG-15bis, c/n 123025, flown by Col. Yevgeniy G. Pepelyayev, CO of 196th IAP, Antung AB, Korean, October 1951
MiG-15bis, c/n 1315376, ex-64th IAK, Soviet Union, mid-fifties
MiG-15bis, flown by Henry Perez, Cuba, 1960s
MiG-15bis, Egyptian Air Force, October, 1956
MiG-15bis, JAG 11, Bautzen AB, East Germany, ca 1956
As with the "Ceskoslovensky Patnactky" release this one contains masks.
The major difference between the "straight" MiG-15 and MiG-15bis kits is the fuselage sprue. Since the fuselage was different between the "straight" MiG-15 and MiG-15bis Eduard molded a different fuselage for each and contained within their own sprue.
Since the main parts of the airframe are split latterly the wings are molded in-situ with the upper fuselage piece. Once the cockpit is assembled (actually the one-piece cockpit tub includes everything in the single piece, although the control stick might be best replaced with a thinner piece, and the cockpit is glued to the nose intake) it's added – along with the nose gear (the wheel molded in-place with the landing gear) – to the upper fuselage half and the main parts glued together. While there is nothing mentioned about weight I would be surprised if the kit didn't require some, so you might want to stick some in the nose.
The same instruction step has you glue the vertical and horizontal tail pieces to the built-up airframe. It's here where you'll want to paint as the last instruction steps have you add the landing gear and external stores (two types of fuel tanks provided). Now you have a built-up 1/144 MiG-15.
Definitely pay close attention to the instructions, though, as you'll need to remove the landing light if finishing the kit as the North Korean MiG-15bis.
Conclusion
These are excellent representations of the MiG-15 and MiG-15bis, definitely superseding the Attack kit. With the release of multiple aftermarket items for it (not only Eduard's own photoetch set, but one from Brengun, a vac canopy again from Brengun as well as decals from JBr Decals) there are a lot of possibilities with Eduard's 1/144 MiG-15s.
I definitely say "thank you" to Eduard for supplying both Dual Combo kits for review.