Internet Modeler : First Look : Aviation
RSS News Feed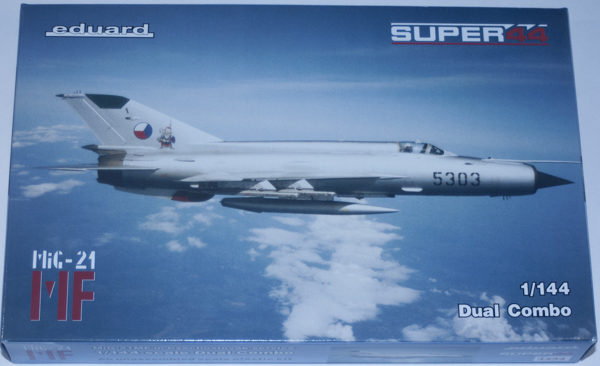 Eduard 1/144 MiG-21MF in Czechoslovak Service
Recently I published a review for JBr Decals 1/144 1/144 Czechoslovak Fishbeds decals. Those instructions contained a pretty thourough account of the MiG-21 throughout Czech history, so I will refer the reader to that article for the history.
Since this release is basically the already released Eduard 1/144 MiG-21MF kit with new decals, I will refer the reader to the First Look of that kit along with my full build of that MiG-21 mark. The Eduard-printed decals are for eight aircraft:
MiG-21M, 4th Fighter Regiment, 1st Squadron, Pardubice Air Base, June, 1969
MiG-21MF, 9th Fighter-Bomber Regiment, 1st Squadron, Bechyne Air Base, September, 1993
MiG-21MF, 11th Fighter Regiment, 2nd Squadron, Zatec Air Base, 1991,
MiG-21MF, 6th Fighter-Bomber Regiment, 2nd Squadron, Prerov Bochor Air Base, July 1991
MiG-21MF, 4th Tactical Air Force Base, 211th Squadron, Caslav Air Base, September, 2004
MiG-21MF, 5th Fighter Regiment, 1st Squadron, Line Air Base, 1974- ca 1983
MiG-21MF, 1st Fighter Regiment, wnd or 3rd Squadron, Fairford, July, 1994
MiG-21MF, 3rd Fighter Wing, 4th Squdron, Sliac Air Base, July, 1997
The first three birds are finished in the usual, overall-aluminum scheme while the last ones are in some type of camouflage. The very last two MiG-21s are marked in Slovak markings as well.
If you haven't built an Eduard 1/144 MiG-21 you have no idea just how fun these kits are. So do yourself a favor and pickup this kit - #4434 - and add a couple of Czech MiG-21s to your shelves.
A definite "thank you" to Eduard for supplying the review sample.