Internet Modeler : First Look : Aviation
RSS News Feed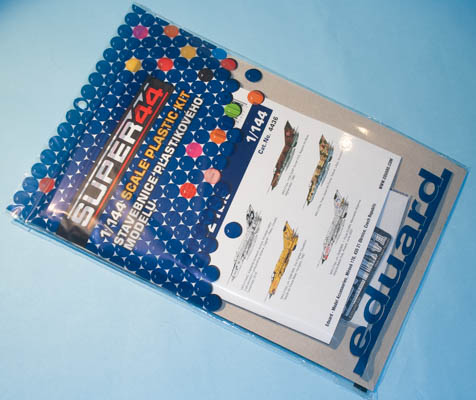 Eduard 1/144 MiG-21bis
Overview
With Eduard's new way of releasing 1/144 kits, as Super44, of course we knew they would re-release their own kits. And here we have the re-release of their MiG-21bis.
The Kit
I have already gone into lengthy detail of all the 1/144 Eduard MiG-21 kits so start with my previous MiG-21bis First Look and go from there. Nothing has changed in regards to the plastic and masks, the only change has been in the marking choices:
MiG-21bisD, Eskadrila borbenih aviona, Hrvatsko ratno zrakoplovstvo i protuzračna obrana, Zagreb – Pleso, Croatia, December 2016
MiG-21bis, 115th GIAP, Soviet VVS, Bagram Air Base, Afghanistan, 1980
MiG-21bis, c/n 75061904, 2nd Fighter Squadron, Taszár Air Force Base, Hungary, 1992
MiG-21bis, Free Libyan Air Force, Tobruk, Libya, November 2011
MiG-21bis, c/n 75080880, 1. Pucki DLMW, Marynarka Wojenna, Gdynia-Babie Doły, Poland, June 2000
Eduard's decals are nicely printed and appear to be in register. I'll be truthful, the reason I picked this one up, even though I have plenty of 1/144 MiG-21s in my stash, was for the Hungarian all-yellow aircraft. That's pretty cool.
Conclusion
You truly can do no wrong with the Eduard's 1/144 MiG-21s. I've built the MF version and it goes together really well. Add their photoetch to it and you'll have a really nice looking model.