Internet Modeler : First Look : Aviation
RSS News Feed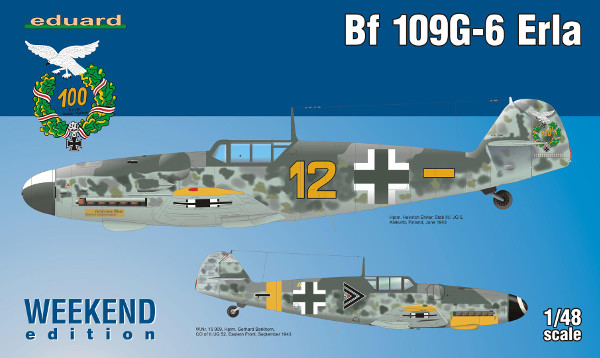 Eduard 1/48 Bf109G-6 Erla Weekend
History
Eduard's first Bf109 kit represented the Bf109G-6 series, the most numerous 109 variant. It was introduced, along with it's pressurized counterpart the G-5, as an upgunned development of the "G" or "Gustav" series. The G-5/6 was armed with a pair of Rhein-Metal Borsig MG131 13mm machine guns mounted above the engine, with a distinctive bulge in the cowling, earning this variant the nickname of "Beule" or "Bump". They went on to serve on virtually every front and with every German ally. G-6s underwent a staggering number of production revisions, field modifications and upgrades throughout their service life, making for a bewildering variety of features. Their long service life and widespread use also allows for an incredible variety of markings and paint schemes. This explains why this version has been the favourite of the modelling community for decades.
| | |
| --- | --- |
| | |
Eduard released early and late Bf109G-6s as ProfiPACK kits, and they have now introuduced new Weekend Editions for Messerschmitt (MTT) Regensburg and subcontractor Erla versions.
The Review
Eduard has followed their usual style with their Bf109G-6 Weekend kits. Photoetch parts and canopy masks have been deleted, and the decal options have been pared down. The first Weekend kits had but one marking option in the box, but this one has two. That is a nice compromise, while not adding any complication or significant expense.
The Erla kit has the same basic plastic parts as the ProfiPACK boxing. It is very complete and it includes several types of rudder, vertical fins, tail wheels, main wheels, canopies, etc. Not only could the Erla G-6 be made from the box, but the other manufacturers versions can also be made. Early and late versions are covered as are the various assembly line variations. In fact, basically any version from a 109G-5 early production to a G-14 can be made with the parts from the box, with the aid of a bit of research.
The plastic is excellent and it is an great value for the money.The molding is very crisp with thin edges, full riveting and of course, no flash whatsoever. The finish is very smooth with a satin finish that should take paint well. The instructions are in Eduard's customary booklet form with stapled pages. This is easier than having to spread out a huge "map-like" document that is 20" plus wide on your work bench! They are printed with some colour to clarify some points in construction, with full colour markings guides in the back. These instructions are clear and easy to use, and will be a pleasure to work from. The instructions also include color callouts for GSI Creos Mr. Hobby Acqeous and Mr. Color lacquer paints.
| | |
| --- | --- |
| | |
The kit includes all of the parts to make any G-5, G-6 or early G-14. As always with any 109, a bit of research to find out exactly what combination of rudder, wheels, tailfin, canopy, antennas, etc., is correct for the plane you want to build. This will be especially important if you don't choose to do one of the versions offered in the box. I can pretty much guarantee that whatever version you choose to do, the part are going to be there. The plastic parts include several different drop tanks, bombs and racks, gun gondolas, etc providing even more chances to customize your model. Your spares box will be happy!
The parts count is a bit higher than previous 1/48th scale 109 kits, at least those without engines. The main reason for the additional parts is things like separate piano hinges for the top of the cowling, five parts to make up the horizontal tail surfaces, three for the fin/rudder, three for the supercharger intake etc. This was done to allow for separate control surfaces, better wheel well details and such. All control surfaces are separate, with a groove formed by the bevels on each main part. The flaps are poseable with secure tabs to locate them securely. The radiator outlets are also poseable as well, a first for any 109 kit that I am aware of. The panel lines are crisp and deep enough that they will show up well under paint, without being overdone. The rivets are there, but are perfectly in scale.
| | |
| --- | --- |
| | |
The entire airframe is riveted, unlike Eduard's earlier Fw190 kits where only areas were riveted. The rivets will show, barely, under a coat of paint, just as they should. We can argue the correctness of this forever, but they will look gorgeous! I also appreciate the new "slide molding" technology. This allows things like gun barrels, vents and exhaust stacks to be molded with the ends indented. This is sufficient to create a hollow effect and is helpful for centering the bit of you want to drill it out deeper. The fabric detail is quite crisp, with the rib tapes and even stitching represented. It will be slightly overscale, but I think it will look good with the rivet details. If you don't like it, sand it off.
The cockpit is also very nicely rendered. The plastic is well done with the smaller parts such as control sticks, trim wheels, etc. all molded commendably thin. They look very much in scale and don't have the flat look that p/e can have in such items.
Frankly, the kit will look very nearly as nice without the p/e, if it is painted by someone who knows what they are doing. The panel has a very nice 3 dimentional effect that would look good with some instrument decals and a drop of clear gloss in the faces. Unlike most other 109 kits there are no separate sidewalls, the detail is molded directly on the inside if the kit. This gives a more "in scale" appearance, with a bit less of the thickness you see in some kits.
I think you perhaps give up a bit of undercutting (which provides enhanced detail) on things like throttle quadrants that you might otherwise have. The inclusion of decals for items such as the throttle quadrant help offset the lack of colored p/e. Of course there are also instrument decals included, so you are not really giving much up. There are seat belt decals provided, but unless complying with some specific contest rules, I would use something else. I have seen them applied to foil or tape and look ok, but there are better ways. One piece of pretty slick engineering is the clear plastic molded fuel line. This is a very prominent feature of all 109's, being painted bright yellow with a clear part for verifying fuel flow. By leaving the clear section bare and painting the rest it will look better than painted imitation usually attempted. I must say, having a 1" thick high pressure fuel hose running about a foot from my right elbow would not give me much comfort in a combat aircraft! Overall, a brilliant effort that can be done with all plastic or can be enhanced with the p/e.
One area that is a highlight of this kit is the wheel wells. Eduard has put as much effort here as anywhere else in the kit. The plastic has the fabric dust shields molded in, even stitching, and the openings into the wing interior are also properly represented. There are four pieces to each wheel well interior, plus the wing upper surfaces have the bulge in place to accommodate the tire. This eliminates the "flat roof" look from inside that you get when you have external bulges like in most kits. The wheels themselves seem pretty good and they have separate hubs to make painting easier. The tread is not deep, but I think it is adequate. There is some nice sidewall detail molded in, giving the sidewall stencils. The fit of the gear leg is pretty positive, which will help alignment and make a sturdy model. The gear doors are commendably thin and have a good positive attachment point. All that is really needed to complete the landing gear is brake lines. Otherwise, they are very complete.
| | |
| --- | --- |
| | |
The clear parts are good and plentiful! There is every combination of canopy and antenna that was used, all rendered in reasonably thin plastic. The thickness is probably right for the armored windscreen and early framed canopy, but maybe a bit thick for the later Galland hood. The framing is crisp, the glass is distortion free and the rivet detail that I praised above is continued onto the framing. There is also clear parts for the wingtip lights, which can be glued in either before painting or after. The transparencies are well thought out and well executed.
The kit comes with 2 marking options. Both are interesting, but conventional well known schemes. Barkhorn and Ehrler with appropriate kill markings and unit insignia. They are both in the standard 74/75/76 and have the unique sawtooth upper surface separations characteristic of Erla built aircraft. Decals are extremely complete, with full stencils and all other markings supplied. Instruments are also supplied as a decal, though I personally would punch out the instruments individually and put them in the dial faces. As expected, the decals are thin, in register and the colors are bright. From the look of them, they should work as well as any aftermarket decals around. I suspect that many that save money on the weekend edition will spend the savings on alternative markings from the aftermarket.
In case I have not been clear, I am pleased with this kit. Very impressed! It has detail, fit, surface detail, accuracy and excellent clear parts. In the weekend edition, it is spectacular value for money, with little real compromise in the finished product. I would like to thank Eduard for the review sample.