Internet Modeler : First Look : Aviation
RSS News Feed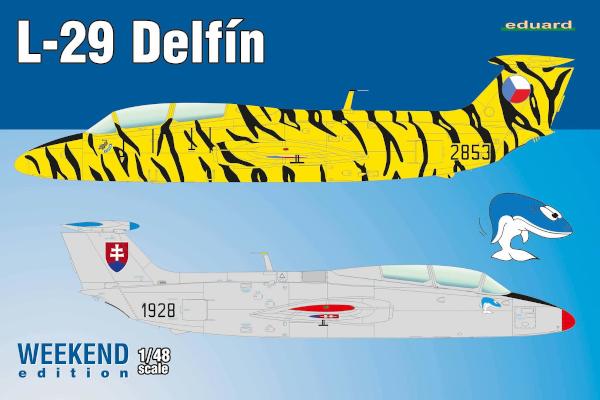 Eduard 1/48 L-29 Delfin Weekend
This is Eduard's Weekend Edition boxing of the AMK (Avant Garde Model Kits) 1/48th scale Aero L-29 Delfin kit. It consists of 121 parts. 113 of these are plastic on 5 sprues, one of which is clear. There is also a small photo-etch fret containing 8 tiny parts.
My impressions of the kit are positive. It is very well molded and detailed. The sprue attachment points are small and well located. Sink marks are confined to the air brakes and lower fuselage. There are some minor ejector pin marks and most of them will prove easy to remove. The clear parts are thin and distortion free.
The fuselage and wing surface detail is recessed panel lines with fine rivets and raised detail where appropriate. The flaps are separately molded and nicely executed.
The wheel wells are deep and they will look great with an oil wash. The fuselage air brakes and front avionics bay can be depicted open. There are some molded-on electrical wires in the bay so get out your smallest brushes to give the bay the detail painting it merits.
The landing gear look good and include molded-on brake lines. The main wheels have separate outer and inner faces so they will be easy to paint. The cockpit is a busy, highly detailed multi-piece assembly. The sidewall consoles have useful raised detail that will come up nicely with an oil wash and dry brushing.
The instrument panels have gauges on the decal sheet. The ejection seats also include decal harnesses but they are a bit one dimensional. I would recommend that you apply the decals to the top of a yogurt container or Tamiya tape so they have a scale thickness. The under wing store consist of a pair of drop tanks.
The kit includes decals for 2 different aircraft:
A/C No. 2853, 1st Flight, 11th Fighter Regiment, Žatec, Czech Republic, 1993. This colorful L-29 was bright yellow with tiger stripes covering the entire aircraft, including the drop tanks.
A/C No. 1928, 3rd Air Base Malacky, Slovakia, 1993. This L-29 was overall Barley Gray with a red nose and wing tips and blue fin tip and horizontal stabilizer tips.
There are 3 decal sheets in the kit. One is for the tiger stripe markings, the second is air frame stencils and the third is for the seat harnesses, instrument panels and national insignias, etc. All 3 sheets are up to Eduard's customary standards. They have crisp, bright colors and excellent legibility and registration.
The instructions are quite comprehensive. They include a parts map, color profiles of both marking options and a stencil application guide. The instructions are well illustrated with a logical, easy to follow build sequence. The color call outs reflect current modeling trends in that they now include Mission Models paints as well as GSI Creos (Gunze) acrylics and lacquers.
This is a great kit. It is accurate and highly detailed and it offers two very different, colorful schemes. If you are unhappy with the detail level you can choose from many of Eduard's photo-etch sets. The Aero L-29 served in air forces all over the globe and there are numerous aftermarket decal sheets to choose from if the kit decals don't suit your fancy. I recommend this kit and I would like to thank Eduard for the review sample.