Internet Modeler : First Look : Aviation
RSS News Feed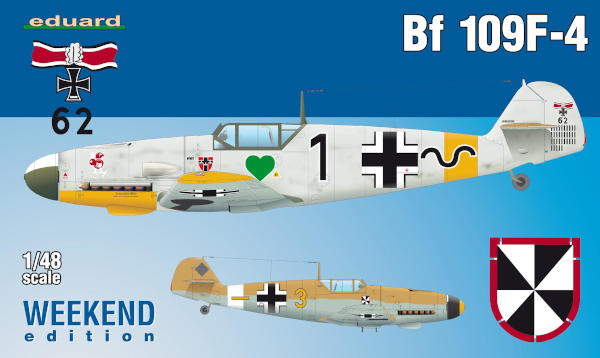 Eduard 1/48 Messerschmitt Bf109F-4 Weekend Edition
This is Eduard's Weekend Edition Messerschmitt Bf109F-4 kit. It consists of 202 parts on 5 sprues, one of which is clear. 93 parts are surplus to your F-4 and they are destined for the spares box. About those surplus parts: the Bf109F-4 also served as a fighter-bomber and some of the extra parts come in handy if you want to build one. They include the SC 250 bomb, ETC 500/IXb bomb rack, 4 SC 50 bombs and ETC50/VIIIb rack. These are very useful items to have!
The molding quality is up to Eduard's customary standards. There is no flash on any of the parts and only a couple of sink marks. The sprue attachment points are well located so the parts will be easy to remove from the sprues without damage. The surface detail on the wings and fuselage consists of well executed recessed panel lines and rivets where appropriate.
The round wheel wells applicable to many F-4s are included. The leading edge slats are molded as separate pieces so they can be depicted extended; this is correct for when the plane on the ground. The lower wing radiator faces and flaps are individual pieces. The landing gear and gear doors are well done. All you need to add is brake lines. Eduard molded the wheels and tires as separate pieces. They will be easier to paint this way.
The cockpit is a complex multi-piece assembly. It will look impressive with an oil wash and dry brushed raised detail. Take your time here and you will be rewarded for your efforts.
Your hard work will be easy to see because the canopy is molded in sections so you can pose it open to show off the cockpit. Eduard molded the fuel return line in clear plastic. This is correct and it looks good.
You have your choice of 2 colorful decal options:
"Black 1", Bf109F-4/Z, W. Nr. 13125, Oblt. Max-Hellmuth Ostermann, CO of 8./JG 54, Siverskaya, Soviet Union, May 1942. This VERY colorful plane was painted in the Mid-War Luftwaffe colors of the RLM 74/75 Greys over RLM 76 Light Blue. The fuselage had a dense mottle of 74 and 75. The entire port fuselage was over painted with white winter distemper paint. The gun cover, starboard upper wing tip, large portions of the port upper wing and areas of the horizontal stabilizers were also over painted with white distemper. The lower cowl, fuselage band and wing tips were RLM 04 Yellow and the spinner was half white/ half RLM 70 Dark Green.
"Yellow 3", Bf109F-4/Z/Trop, Uffz. Franz Schweiger, 6./JG 3, San Pietro, Italy February 1942. This plane was painted in the Africa Theatre colors of RLM 79 Brown over RLM 78 Light Blue. This plane had a white fuselage band and was equipped with the "Tropical" supercharger air intake filter. The spinner was RLM 70 with an RLM 04 Yellow tip.
You get 2 decal sheets. One is devoted to the airframe stencils and the other includes the aircraft markings and the national insignia. The sheets are well printed with bright colors and excellent registration. The instructions are up to Eduard's usual standards. They include a parts map, color profiles and a stencil application guide. The illustrations are excellent, the build sequence is logical and easy to follow, and color call outs are for GSI Creos (Gunze) acrylic and lacquer paints. This is a first class presentation. Well done, Eduard!
Conclusion
I am a fan of the Messerschmitt Bf109 in general and the Bf109F in particular. Eduard's Bf109F-4 kit is well done. It's accurate and well detailed right out of the box. If you're not satisfied with what you find in the box you can up the detail level with Eduard's Brassin resin and photo-etch sets. I recommend this kit and I would like to thank Eduard for the review sample.
References
Messerschmitt Bf109F, Volume One, Monograph Number 31, by Marek J. Murawski, Kagero Publications, 2007
Messerschmitt Bf109F, Volume Two, Monograph Number 35, by Marek J. Murawski, Kagero Publications, 2008
The Messerschmitt Bf109, A Comprehensive Guide For The Modeller, Part 2: 'F' to 'K' Variants, Modeller's Datafile 10, by Lynn Ritger, SAM Publications, 2007