Internet Modeler : First Look : Aviation
RSS News Feed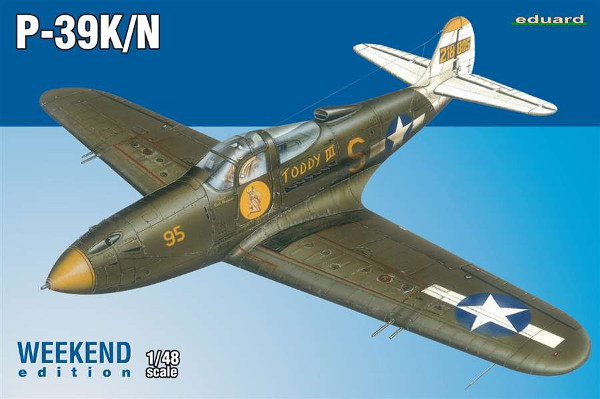 Eduard 1/48 P-39K/N Weekend Edition
This is a reissue of Eduard's 1/48th scale Bell P-39K/N kit. It consists of 112 parts on 4 sprues, one of which is clear. The molding quality is first rate. The surface detail, a combination of fine, recessed panel lines and subtle rivet detail, is very well done. You have your choice of "standard" and "weighted" tires. The landing gear and doors are well executed.
One of the P-39's unique features was a pair of full sized opening doors on either side of the fuselage. Eduard has molded these in clear plastic; it will be quite easy to mask off the window panes to paint the rest of the doors-nicely done, Eduard! The interior is very well detailed, consisting of 19 individual parts. With the open doors, if you take your time with painting the interior should look quite spectacular.
The under wing stores are simple: your choice of a drop tank or bomb for the center line of the fuselage.
The instructions are up to Eduard's usual standards, with a parts map, logical build sequence and great illustrations. Color callouts are for GSI Creos (Gunze) Aqueous and Mr. Color paints.
The decal sheet is superb, with bright, crisp color. It is well printed and in register. It has stencils, national insignia, and a pair of wing walks. It includes 2 decal options:
"Yellow 95," "Toddy III," P-39N, serial number 42-18805, Captain G.A. Gilbert, 41st FS, 35th FG, Tsili Air Base, New Guinea, September 1943. This colorful plane was Olive Drab over Neutral Gray, with a yellow spinner and white empennage, plus a yellow tipped rudder and fin. The US national insignia had white bars.
"White 23," P-39K, serial number 42-4358, Lieutenant W. McDonough, 40th FS, 35th FG, Port Moresby, New Guinea, February 1943. This plane was also Olive Drab over Neutral Gray, with a red spinner and red tipped rudder and fin. The national insignia had no bars.
The Bell P-39 was an unorthodox aircraft. It had very real limitations, but it gave a good account of itself, especially in service with the Soviet Union. This is a great kit of a somewhat obscure airplane. It will make a unique addition to your collection. I recommend this kit and I would like to thank Eduard for the review sample.