Internet Modeler : First Look : Aviation
RSS News Feed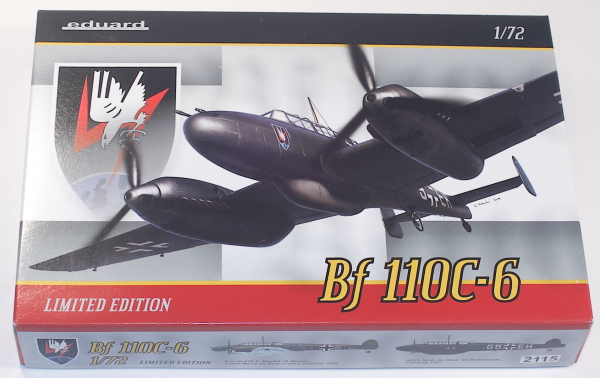 Eduard 1/72 Bf 110C-6 Limited Edition Profipack
Introduction
It would appear there were very few – less than 20 – Bf 110C-6s produced. It differed from the 110C/D in that two guns were removed from the nose because that area was modified to fit the 30mm Mk 101 cannon under the fuselage, and the barrel protruded into the area where the underside nose-guns were housed.
We have reviewed other versions of Eduard's 1/72 Bf 110 series so I will let the reader go to those articles for more information, as I plan on just showcasing what Eduard does to create the Bf 110C-6. First we provided a First Look on the Bf 110E and finally Master Modeler Steve Hustad built the Bf 110G-4 so you can see how this kit looks built-up.
The Kit
The biggest difference with Eduard's 110C-6 is the addition of resin pieces for the C-6 specifics. Not only is there the 30mm gun and resulting parts, but the ammo drums and some cockpit-internals as well. In addition Eduard provides a different photoetch set that not only contains parts from the rest of their 110 line, but also a face for the ammo drum and the mounting plate for the gun's external pod.
Surgery is required with this Limited Edition, so Eduard doesn't have to create entirely new molds for the C-6. It makes sense to do it this way, especially since the surgery required is along panel lines so it shouldn't be too difficult. You will need to remove a section from the underside of the nose along with a small panel on both fuselage halves. It's not too difficult and with time and patience you should be able to have a joint that will require little-to-no putty.
There are two marking options with this kit (with Eduard's decals looking spot on and in register):
Erpr.Gr.210, flown by E. Beudel / H. Diemer, Calais-Marck Air Base, France, Summer, 1940, which consisted of a RLM 70/71 splinter camouflage over RLM 65 under-surfaces
NJG1, Venlo Air Base, the Netherlands, February, 1942, which was finished overall in black
Conclusion
This is an excellent addition to Eduard's already superb line of 1/72 Bf 110s. The C-6 is unique enough that people that want to add to their 110 collection will definitely want to pick it up.
My thanks to Eduard for supplying the review model.