Internet Modeler : First Look : Aviation
RSS News Feed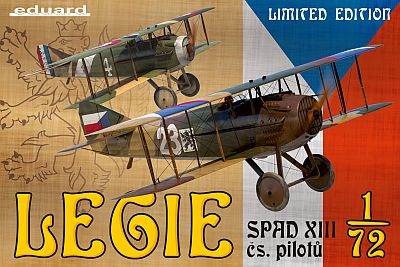 Eduard 1/72 Legie - SPAD XIII čs. pilotů
When Eduard first released the 1/72 SPAD XIII, it was a very welcomed kit. Until that time all the 1/72 modelers had were the venerable Revell/ESCI kit, and then Meikraft tried to create an injected kit as well. Czechmaster also came out with a kit but since it was resin, there was plently of modeling skills needed to build the kit into a good example. But when Eduard first released their plastic injected kit - which was, and still is, very accurate - the 1/72 WWI modelers were very happy. It builds into a fine example of the late-WWI fighter and it initially came in multiple releases and two versions, 'Early' and 'Late'.
It has been some time since Eduard has re-released their 1/72 SPAD XIII. This time, Eduard has gone the "national route" and released the kit with markings for Czech pilots, two that flew during WWI and the others examples of the fledgling air force of Czechoslovakia. There are four schemes:
S 2807, flown by Sdj. Augustin Charvát, SPA 315, Chaux, France, September 1918
S 8875, flown by Adj Václav Pilát, SPA 124, France, Fall 1918
No. 9151, flown by Cpl. Bohumil Siegl, 33rd Squadron, Air Regiment 2, Lípa Airfield near Německý Brod, Czechoslovakia, September 1st, 1924
No. 9152, flown by Sgt. František Lehký, 32nd Squadron, Air Regiment 1, Blíževedly Airfield, Czechoslovakia, August 28th, 1924
The two WWI birds are finished in the usual French Five-Color camouflage while the Czech aircraft are finished in their own schemes. Colors are close to French Five-Color, but not quite the same. The decals are very nicely printed and in register.
This release not only comes with the plastic parts (the layout is the same as other releases, Eduard has just gone to a gray plastic color, instead of tan) of the prior 'Late' releases, but also its own set of photoetch. This is partially pre-painted and comes with seat belts; individual instruments to be attached to the "shelf" surrounding the pilot; a compass for the floor; replacement throttle; fuel gauge; pilot's step; side engine grills (one set of a single type); gun sight; and aileron cranks. This release also contains a set of masks for the windscreen and wheels.
I'll refer the reader to any of the other posted article links above for further information about the kit. Nothing has really changed through the years for this kit aside from Eduard switching to a gray plastic.
This is a nice re-release of an excellent kit and if any of these schemes strike your fancy, by all means pick up this kit. You'll be glad you did.
My thanks go to Eduard for sending this to review. I'm hoping I have an Overtree somewhere so I can build both a Czech-flown French bird, along with one of the indigenious Czech examples.