Internet Modeler : First Look : Aviation
RSS News Feed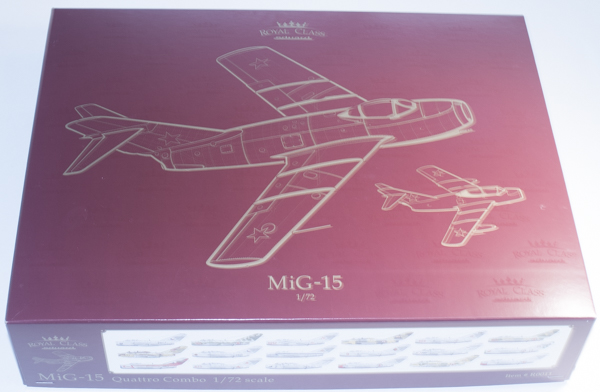 Eduard 1/72 MiG-15 Royal Class
There have been plenty of reviews of Eduard's superlative 1/72 MiG-15s in the hallowed halls of Internet Modeler. I'll refer the reader to those reviews to get a sense of what the kit actually looks like. There's the MiG-15 ProfiPACK, the MiG-15bis Weekend and the MiG-15bis ProfiPACK.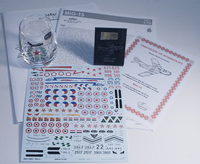 With the Royal Class boxing you receive decals for 18 different schemes:
MiG-15, c/n 111025, Flown by 1st Lt. Anatoliy P. Gogolev, 2nd Flight, 176th GIAP, 324. GIAD, Antung Air Base, 1951
MiG-15, s/n 231611, Romanian Air Force, Late 1950s
MiG-15bis, No. 20 Squadron, Egypt., Late 50s / Early 1960s
MiG-15bis, Flown by Capt. Ryszard Grundman, 1st Fighter Regiment, Bemowo Air Base, Poland, 1954
MiG-15bis, s/n 31530906, 25th Fighter Division, 35th Fighter Regiment, Taszar Air Base, Hungary, 1954 - 1955
MiG-15bis, s/n 623766, FAG 2 Training Regiment, Trollenhagen Air Base, German Democratic Republic, 1956
MiG-15bis, Flown by Zhao Baotong, 3rd Air Division, Korea, 1952
MiG-15bis, Flown by Nikolay I. Shkodin, 147th GIAP, 133rd IAD, Tatung-kao Air Base, China, July, 1953
MiG-15bis, Korea, 1952
MiG-15bis, Flown by Capt. Jaromir Palecny, 11th Fighter Regiment, Zatec Air Base, 1960
MiG-15bisSB, 30th Fighter-Bomber Regiment, Hradec Kralove / Pardubice Air Base, Czechoslovakia, 1970s
UTI MiG-15, 1st Fighter Regiment, 2nd Squadron, Plana Air Base, Czechoslovakia, Summer, 1969
UTI MiG-15, s/n 822028, Havittajalentolaivue 31, Rissala Air Base, Finland, May, 1973
UTI MiG-15, Syrian Air Force
UTI MiG-15, c/n 612739, Flown by Yuri Gagarin / Vladimir Seryogin, Space Training Centre, Chkalovskiy Airfield, Soviet Union, March 27, 1968
UTI MiG-15, Egyptian Air Force, 1970s - 80s
UTI MiG-15, Indonesian Air Force, Jakarta - Kemajoran Air Base, 1965
UTI MiG-15, Iraqi Air Force, 1980s
Within the red Royal box are sprues for one MiG-15, two MiG-15bis and one MiG-15UTI. There are also Brassin (resin) seats, Brassin "conformal" fuel tanks for under the wings, photoetch for all four models and masks for all four as well. In addition you receive a nice 220ml whisky glass, etched with a MiG-15 emblem; and a piece of a "real" MiG-15 mounted to a display (along with "official" documentation stating it's a piece from a "real" aircraft).
This is a stunning release and with the Eduard's release of Overtrees (kits with nothing but plastic in the box, including no instructions) you could easily create more than just the four in the box, using the Royal Class decals for those other kits.
Unfortunately this is the only way to pick up their MiG-15UTI – until September 2015 when it becomes available as a Weekend kit.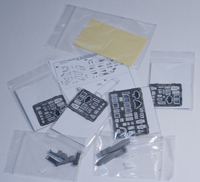 Huge thanks to Eduard for providing this exceptional set to review.