Internet Modeler : First Look : Aviation
RSS News Feed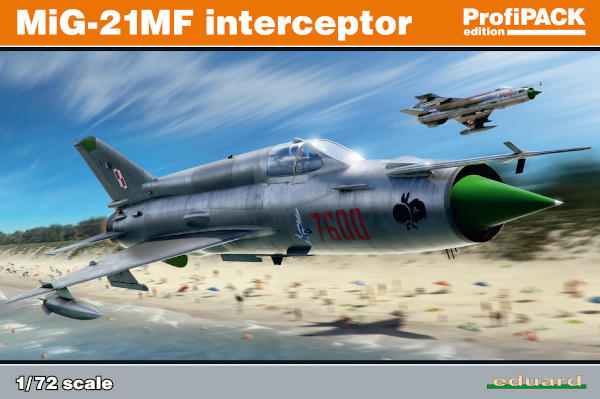 Eduard 1/72 MiG-21MF Interceptor ProfiPACK
The Plane
The MiG-21 MF (OKB Designation: Type 96F; NATO Designation: Fishbed-J) was powered by the Tumanskij R-13F two-shaft axial flow turbojet with an additional combustion chamber. It produced 9873 pounds of thrust and 14,308 pounds in afterburner. The MF used the RP-225 Sapir 21 radar and the 200 round Gsch-23-2L twin-barreled auto cannon.
The under wing racks carried a combination of stores including external fuel tanks, the FAB bomb with 500kg warhead and UB-16 and UB-32 rockets. Other options included the RS-2US, R-3S and RM air-to-air missiles. The MiG-21 MF had a range of 1118 miles, a top speed of 1300 MPH and a ceiling of 57,750 feet. It served in many air forces in addition to that of the Soviet Union including the German Democratic Republic, Poland, Czechoslovakia, Romania and Bulgaria.
The Kit
The kit comes in one of Eduard's customary sturdy boxes with an nice illustration of a pair of Polish MiG-21 MFs flying low over a beach. This is a multimedia kit. It consists of 196 parts. 164 of these are injection molded parts on 4 sprues. There are 31 photo-etch parts, some of which are pre-painted on a single fret and a sheet of rice paper masks. The PE fret includes the instrument panel, sidewall consoles, ejection seat harness, etc.
This is a complex kit. The surface detail consists of recessed panel lines, rivets and raised panel lines where appropriate. This detail is spectacular in its refinement. All of the injection molded pieces have the same level of detail. There is no flash and minimal sink marks The sprue attachment points are well located so the parts will be easy to remove. This is important because some of the pieces are so small that they will be easy to lose if not handled carefully.
The cockpit is a multi-piece assembly. The floor doubles as the front wheel well roof so there are parts to add to both the top and bottom. The cockpit is highly detailed and the PE instrument panel and sidewall consoles greatly enhance it. The ejection seat is well executed and it's fitting that you add it to the cockpit after the entire air frame is assembled.
The wings are well done. The lower wing is a single piece and it also includes part of the lower fuselage. You glue the afterburner can to one fuselage half before joining them. Next you add the wheel well for the main wheels before joining the fuselage and lower wing and then attach the upper wings to complete the air frame.
The landing gear, doors and wheels are well executed. They will look great with an oil wash and careful dry brushing of the raised detail. The under wing stores are comprehensive. They include 490 and 800 liter external fuel tanks and R-13, R-2S, RS-2US and R-60 rockets.
Eduard's decal sheets are up to their customary high standards. The printing is crisp and legible with bright colors. One decal sheet is for the air frame stencils and the other is for national insignia and aircraft numbers. You have five colorful aircraft to choose from:
C/n 96007600, No. 7600, 11. Pulk Lotnictwa Myśliwskiego, Mierzęcice, Poland, early 1990s. This plane was in natural metal with a steel nose ring. The nose cone and rear dielectric panels were Radome Green.
C/n 96004017, No. 4017, 9.slp/9.sbolp, Bechyně, Czechoslovakia, early 1990s. This plane was in natural metal with the nose cone and rear dielectric panels in Radome Green. The lower fuselage dielectric panel was Dark Brown.
C/n 96002170, No. 784, Jagdfliegergeschwader 3, Preschen, German Democratic Republic, late 1980s. This MiG-21 MF was Olive Drab and Dark Green over Natural Metal with Radome Green nose cone and dielectric panels.
C/n 96006721, No. 6721, Regimentul 71 Aviaţie Vânătoare, Câmpia Turzul Airbase, Romania, 1990s. This plane was in natural metal with a Radome Green nose cone and rear dielectric panels.
C/n 96005512, No. TZ-356, Senou Airbase, The Republic of Mali, 2006. This MiG-21 MF was Light Brown with areas of Yellow Green and Dark Green over Light Blue. The nose cone and rear dielectric panels were Radome Green.
There are no surprises with Eduard's instructions. They are well illustrated with a logical, clear build sequence, a parts map and a 4 page guide to applying all of those stencils. Color call outs are for GSI Creos (Gunze) Aqueous and Mr. Color paints.
Conclusion
This an excellent kit of an important and iconic Russian jet which saw service all over the globe. It is accurate and well detailed right out of the box and the decal options are exciting. You can up the detail level with Eduard's Brassin resin parts and photo-etch sets. I recommend this kit and I would like to thank Eduard for the review sample.
References
1) Print:
Walk around, MiG-21 Fishbed Part 2, Walk Around Number 39, by Hans-Heiri Stapfer, Squadron/Signal Publications, 2005
MiG-21, author unknown, 4 + Publications, 1991
2) Web:
http://www.topedge.com/panels/aircraft/sites/kraft/data.htm