Internet Modeler : First Look : Aviation
RSS News Feed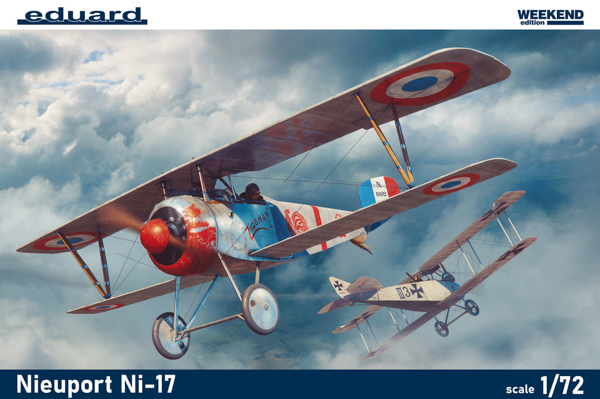 Eduard 1/72 Nieuport Nie.17 Weekend Edition
Overview
The Eduard 1/72 Nieuport 17 has been out for a number of years, now. It's still as awesome as it was then and definitely deserves to be built. Now that I'm finally getting back to WWI modeling, it's time to add built examples to my shelf.
I have built one in the past as well as provided a number of First Looks on the various releases. I refer the reader to those articles to see details of the kit.
This Release
Eduard has changed their Weekend Edition kits. In the past they had different artwork on the box and came with usually only one scheme on the decal sheet. Now, they're providing fully painted box-top artwork as well as four schemes per box. All four Eduard provide are pretty colorful: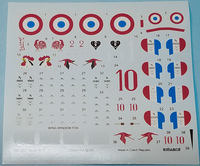 Nieuport Ni-17, N.1662, Paul Tarascon, Escadrille N.62, Chipilly, France, November 1916. Tarascon's planes were normally marked with "Zigomar", which was the name of a fictional criminal, who was terrorising France and Europe with his accomplices. This particular Nie.17 was "Zigomar 5". Unfortunately updated research shows the rooster on this particular Nie.17 has more blue in it than Eduard provides. The overall finish of this aircraft was aluminum dope
Nieuport Ni-17, N.1490, Charles Nungesser, Escadrille N.124, France, Bar-le-duc - Béhonne, France, July 1916. This Nie.17 of Nungesser was camouflaged on the upper surfaces
Nieuport Ni-17, N. unknown, Jean Matton, Escadrille N.48, France, Lunéville, France, July 1916. Like Nungesser's above, this aircraft was camouflaged on top
Nieuport Ni-17, N.1560, Mathieu Tenant de la Tour, Escadrille N.3, France, Cachy, August 1916. Another all-over aluminum dope machine
Decals are really nicely done and appear in register. Eduard also provides all the smaller serial number stencils: on the Nie.17, each part was hand made so each contained the serial number of the aircraft. There were stencils on the ailerons and the upper wing, near the aileron; the elevators as well as the stab near the elevators; and on the fuselage sides.
Conclusion
Even though this kit has been in Eduard's catalog for a number of years, it isn't showing its age, yet. Couple it with Eduard's masks and photoetch and you can have an excellent representation of the best - in this reviewer's opinion - WWI aircraft of all time.
I definitely thank Eduard for supplying the review model.