Internet Modeler : First Look : Aviation
RSS News Feed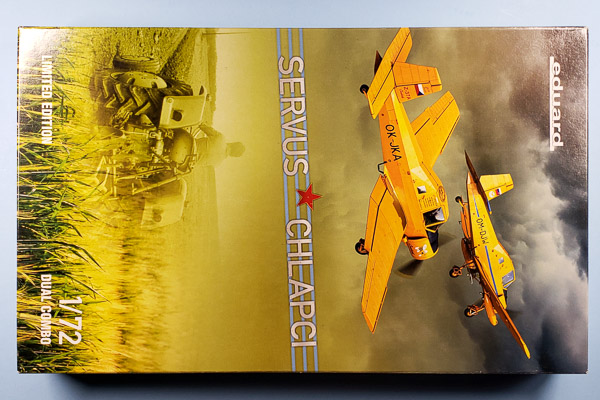 Eduard 1/72 Servus Chlapci Z-37A Cmelák Dual Combo
Overview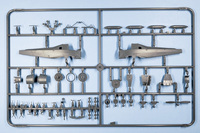 Agricultural aircraft have been around for almost as long as aviation itself, but it wasn't until after the Second World War that dedicated agricultural aircraft were designed from the ground up. Eduard has produced a kit of the Zlin Z-37A, an agricultural aircraft that was first built in the early 1960s. Powered by a radial engine and given the name Cmelák (Bumblebee), the Z-37A in its most common overall yellow scheme became a common sight over the fields of Czechoslovakia and other Eastern European nations.
The Kit
Eduard has definitely been kicking out some great kits as of late, and this is no exception. As this is a Dual Combo release, of course you get two kits in the box, but there is also photoetch, masks, and a resin figure. To make it even more fun, the decal options number an even dozen, so there is no shortage of interesting markings. The challenge, though, is you'll have to choose just two. With that many options, there are lots of building challenges as there are variations in the construction that you'll have to pay attention to almost from the beginning.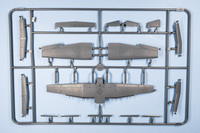 Starting with the interior, you get the option of building just the plastic parts, or using the pre-painted photoetch parts. Given the quality of those PE parts, I would recommend using as many of those as possible. Of course, that means you will have to choose what scheme you want to do right away, as there are three different interior options in the photoetch. The usual details are provided, such as seat belts and instrument panels, but you also get some sidewall details as well. The plastic interior bits include a seat, a cockpit tub, a rear bulkhead, a control stick, and an instrument panel, and once together with the PE it will make for a pretty good looking cockpit.
Following that, the rest of the construction follows traditional steps. The fuselage halves are split into right and left halves, with a separate cowling for the engine. This cowling is built up from five main parts, including the engine face, and several detail pieces. These other details include the front vanes and the exhaust pipes. Other fuselage bits include a tail cone, the cabin roof, and the clear parts.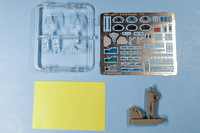 For the flying surfaces, these are done quite nicely and capture the ribbed look accurately. The lower wing is one piece, with separate upper halves, and the flaps and leading edge slats are also separate pieces. For the tailplane, both the stabilizer and vertical fin have separate control surfaces, so you'll be able to reposition those easily. Finally the landing gear is simple, yet nicely detailed and includes replacement oleo scissors on the photoetch fret.
For the underside, there are a couple options provided. First up, and found on just about all the variants, is the center fuselage spreader mechanism. This is an interesting round contraption with a small photoetch shield piece. For five of the options, there are a pair of underwing tanks as well. These are split into upper and lower halves, with additional plumbing pieces provided. The last bits to add are some exterior photoetch details and the propeller.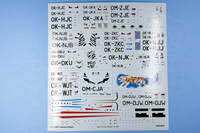 For painting options, as noted most of these choices have the plane in overall yellow, with one option having a red fuselage & wings and two options finished in orange and white schemes. For the yellow schemes, most of these have only small detail variations, such as small emblems, accent colors, and such. Some, though, feature tiger markings of some sort or another. This includes a tiger-striped rudder on one option, a cowling on another, and a third with a large mural of a tiger painted on the side. For the orange and white options, one is painted up as Dusty from the Disney movie Planes, while the other  is a simpler scheme of an orange plane with a white upper fuselage & tailplanes. Regardless of which option you choose for the two kits in this box, the decals look to be very nicely printed and should present no problem in application.
Conclusion
If you're looking for something a little different on your shelf, this is a great kit to scratch that itch with. It's a neat looking little plane, from a side of aviation not often seen in the scale world, and the tooling by Eduard will make it a joy to put together. As soon as I can figure out which of the twelve options to build up, I know I'm going to have fun doing these. My thanks to Eduard for the review kit.