Internet Modeler : First Look : Aviation
RSS News Feed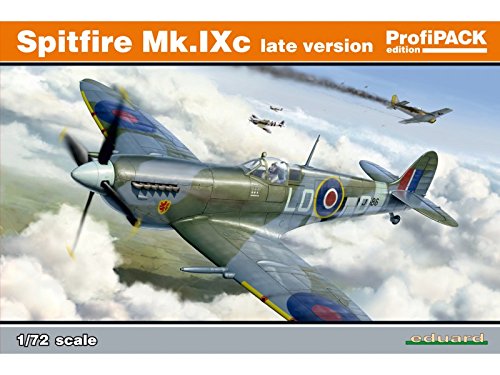 Eduard 1/72 Spitfire Mk.IX ProfiPACK
I am sometimes considered the Spitfire guy among my modeling friends (even though I would count the Hawker Hurricane as my favorite type). I have purchased innumerable Spitfire kits over the years in 1/72. Some were good (CMK resin) and some were horrible (Forces of Valor/Unimax). Probably much to the consternation of those who say "not another Spitfire," I have long lamented the lack of a "perfect" Spitfire Mk. IX. Sure, Airfix's kit from a few years back had good shape, but it lacked detail and had heavy engraved panel lines. AZ's kit was better, but it had some odd engineering choices. Why oh why did they mold the wings with clipped tips? When Eduard issued its excellent 1/48 Spitfire, I felt guilty buying one (it wasn't 1/72nd, after all) and have always hoped that Eduard would scale it down someday. After a few years of teasing, my prayers were answered: the Eduard 1/72 Spitfire Mk. IX is here!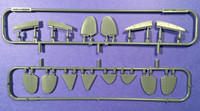 The breakdown of Eduard's 1/72nd scale kit will come as no surprise, if one has inspected their 1/48th Spitfire family. They are very similar in appearance. The kit consists of three large runners and two small runners of dark grey plastic and one sprue of clear items. There are lots of parts in the box. Many will be used to build a very detailed model, but there are also substantial extras that hint at forthcoming Spitfire versions (the teardrop canopy of the Spitfire XVI for instance).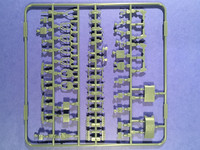 The parts are, as expected from Eduard, well molded and covered in finely scribed surface detail including rivets. While some might object to the rivet detail as inappropriate for a Spitfire, it is so fine and subtle that it should look excellent under paint. The fasteners on the cowling panels are raised and a tad too prominent, but I wouldn't want to take the chance on destroying the surface detail to sand them down. The complex shape of the Spitfire is captured well and major dimensions coincide with published data. The rudder and ailerons are modeled as separate items, but sadly, the elevators are modeled as part of the horizontal stabilizers.
Options abound with this kit, and as mentioned, some point to other versions coming in the future (the Spitfire XVI and Spitfire VIII). Clipped, standard and extended wingtips are included, as are round and fishtail exhausts. Both round and pointed rudders are on the sprues and three styles of horizontal stabilizers are provided. Ailerons are included for both the Spitfire IX and the Spitfire VIII. Both smooth and treaded wheels are provided, as are three spoke, four spoke, five spoke, and covered hubs. Multiple sets of landing gear legs are included, but only one set is appropriate for a wartime Spitfire IX. Check the instructions carefully!
To hang under your Spitfire, Eduard provides both styles of slipper drop tanks, as well as the "torpedo" style tank and bombs. Both the wing pylons and the center line rack are included.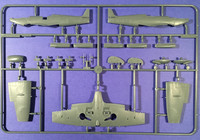 The cockpit is very well detailed in plastic with separate side walls. The seat is in multiple parts and the included photo etch can be used to enhance the instrument panel, gunsight, and control column. The optional canopies are provided to position open or closed.
As good as this kit is, there are one or two odd choices. Echoing the 1/48th kit, Eduard has molded the cowling parts in two halves, which leaves a difficult seam. Eduard has addressed this with Brassin replacement cowls, but they really should have provided the revised cowl parts in the kit. As is common with Eduard, some of the assemblies appear more complicated than necessary; for example, multi-part wheel wells and radiator housings. Some may quibble with the rivets. All of these items are only small niggles; the only real issue is that the hood on the open canopy option is too large. This is probably necessary to inject it in plastic, but it does look odd on the completed kit.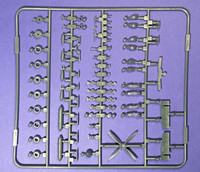 Decals are provided for two aircraft flown by RCAF pilot Jerry Billings, a RAF bird in natural metal, a standard RAF camouflaged aircraft flown by Pierre Clostermann, and planes flown by Czech and Polish pilots in the RAF. Decals are well printed and include full stenciling. As is the case in Profipak kits, a sheet of masks is included for the canopy.
This is an excellent kit and the best Spitfire IX in the scale. Spitfire fans' prayers have been answered! Not only do we get an excellent kit; our spares boxes will be filled with extra parts to upgrade all the lesser Spitfires. Well done! I would like to thank Eduard for the review sample.