Internet Modeler : First Look : Aviation
RSS News Feed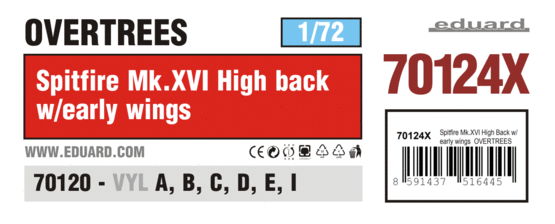 Eduard 1/72 Spitfire Mk.XVI High back w/early wings Overtrees
This is the Overtrees boxing of Eduard's 1/72nd scale Supermarine Spitfire Mk.XVI High back kit. It consists of 180 parts on 6 sprues, one of which is clear. This is a well detailed and comprehensive kit. Sprue A includes items such as fixed and retractable tail wheels, 3,4, and 5 spoke wheels, drop tank, under wing bomb racks and bombs, 3 different types of wing cannon barrels, and a very nice propeller, spinner, and backing plate.
On sprue B one finds items such as 2 types of drop tanks, 2 pairs of exhaust stacks, 3 pairs of landing gear, 2 pairs of landing gear doors, etc. Sprue C is for the fuselage, and it caters to the MK.VIII, IX and XVI variants. It includes the fuselage halves, 2 separate, clipped wing tips, 2 piece upper cowlings and 2 different rudders.
Sprues D and E have standard and pointed wing tips, broad and narrow ailerons (the latter are applicable to the Mk.VIII), standard and large horn balance tail planes (there are 2 different styles of large horn balance tail planes), etc.
The clear sprue includes another pair of clipped wingtips, the Mk.XVI bubble top canopy, and closed and open canopies applicable to the Mk. XVI high back, Mk.VIII and Mk.IX variants.
Because this is an Overtrees kit, you don't get decals and instructions. But you can download the instructions from Eduard's website, and there are a plethora of aftermarket decal sheets, from AeroMaster, Barracuda Decals, Eagle Strike, Fundekals, Xtradecals, etc.
Eduard's Spitfire Mk.XVI Overtrees kit is accurate and well detailed. It will look great straight out of the box. You can make do with just a set of Eduard's photo-etch seat belts. Or, you can take your pick from Eduard's "suite" of enhancements (photo-etch sets, canopy masks) or choose resin detail parts from their Brassin line (wheels, cockpit, engine, gun bays).
I recommend this Overtrees kit and I and I would like to thank Eduard for the review sample.