Internet Modeler : First Look : Aviation
RSS News Feed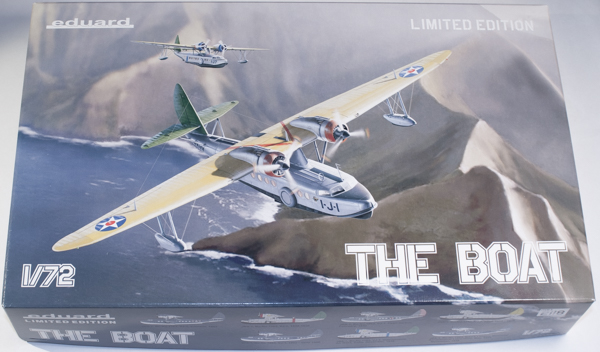 Eduard 1/72 "The Boat" (Sikorsky JRS-1)
Introduction
Short and sweet, the Sikorsky JRS-1 was the U.S. Navy designation for the Sikorsky S-43 "Baby Clipper". The S-43 first flew in 1935 and it was first flown by various U.S.A airlines. It could hold between 18 and 25 passengers and was primarily used by Pan American, mainly for flights to Latin America along with Cuba. Between 1937 and 1939 the U.S. Navy procured 17 of them in which two served with the U.S. Marine Corps.
Thankfully there is one that survives to this day, and it's a Pearl Harbor survivor. It currently resides in the Smithsonian and according to pictures in the book Eduard provides is currently going through some restoration.
The Kit
Eduard's "The Boat" (kit #2118) is based primarily on the Sword 1/72 Sikorsky S-43/JRS-1. The kit comes with a plethora of resin pieces: engines, exhaust for the top of the cowls, intakes for under the nacelles, seats for not only the cockpit but also the main cabin, control horns for the horizontal tails, parts for the front of the props (including spinners) and a fairing for the generator prop on top of the fuselage. Eduard provides a sheet of photoetch which includes a replacement instrument panel (to which you adhere to the kit's panel you need to sand flat), seat belts for the cockpit seats (after removing the molded-on belts), "port-hole" covers for a couple of the fuselage windows, multiples pieces that make up the engine control panel that mounts to the inside of the canopy, various strakes and antenna for the aircraft, grab handles also for various areas (some replacing injected plastic ones), control horns for both the horizontal tail parts (if you don't want to use the resin copies) and the ailerons (if you don't want to use the injected plastic ones) and rudder control horns and rigging.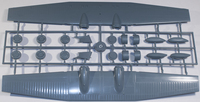 One thing I find odd is that Eduard doesn't provide new, Brassin wheels with this release. The kits' wheels are each two pieces and cleaning them up is something to consider. If Eduard would have provided resin wheels it would really help not only with construction, but also with detail as their resin pieces are top-notch. An unfortunate item missed by Eduard.
The Sword plastic consists of 114 grey injected parts and 23 clear injected parts. Everything is nicely molded and looks great. Also included by Eduard are the typical masks that are not only for all of the clear pieces but also the wheels.
Construction will take some time. There is a lot to the interior so take your time and study the instructions. There are modifications that need to be made prior to gluing everything together so again, study the instructions. Eduard photoetch replaces a lot of parts to include the molded-on seat belts on the pilot's and co-pilot's seats. Eduard also adds the flight control section and levers that will sit inside the main canopy. I cannot stress enough that you want to study the instructions both before actual construction and during construction.
There are also instruction steps to follow based on the aircraft you choose to model so I may sound like a broken record, but study the instructions.
Personally there are two reasons to pick up this release from Eduard, aside from the kit. The first is the excellent book that not only provides ample period photos and plenty of text, but also provides color profiles of multiple aircraft. More importantly, though, the book contains color photos of the only existing JRS-1 now residing at National Air and Space Museum. The second reason to pick up this release from Eduard are for the decals, expertly printed by Cartograf. You have seven marking schemes to choose from (although some of those markings are for the same aircraft but just at a different time):
JRS-1, Bu.No. 1063, VJ-1, 1938-1939
JRS-1, Bu.No. 1193, VJ-1, Guantanamo Air Base, Cuba, December, 1938
JRS-1, Bu.No. 1063, VJ-1, Pearl Harbor, February, 1942
JRS-1, Bu.No. 1063, VJ-1, Summer, 1943
JRS-1, Bu.No. 1063, VJ-1, 1943 – early 1945
JRS-1, Bu.No. 1063, NACA Langley Memorial Aeronautical Laboratory, May 1945 – November 1946
JRS-1, Bu.No. 1192, VJ-2, circa 1939 – 1940
So, technically there are only three aircraft catered for, just more markings for 1063 as she appeared throughout her life. The first iteration of 1063 was the usual pre-war scheme of overall aluminum with yellow flying surfaces and a black hull, along with Willow Green tail surfaces and a red fuselage stripe and red cowl-fronts. 1193 was also pre-war with a Willow Green tail (VJ-1's colors) but with a blue fuselage stripe and blue cowl-fronts.
Conclusion
There is a lot of work that will need to be done to build this model but I believe it will be fulfilling seeing the final result. If you were holding off purchasing the Sword JRS-1 for various reasons then you'll want to pick up the Eduard re-boxing as they provide just that much more to help with the final product. With the photoetch, masks and superb decals this will really look great when finished. Oh yeah, and don't forget about the excellent book that comes with the kit, too. In addition, Eduard provides an extra photoetch set if you want to add even more detail to the kit.
Huge, huge thanks to Eduard for providing the kit to review.