Internet Modeler : First Look : Aviation
RSS News Feed

Fisher Model 1/48 Curtiss XF6C-6 "Page Racer"
History – The Plane
On May 31, 1930 United States Marine Corps Captain Arthur H. Page won the Curtiss Marine Trophy Race at Anacostia Naval Air Station flying a Curtiss F6C-3 Hawk biplane on floats. This was the last of the military air races. Casting about for new worlds to conquer, Curtiss, Page and the Navy set their sights on the first Thompson Trophy Race to be held as part of the National Air Races later that year in Chicago.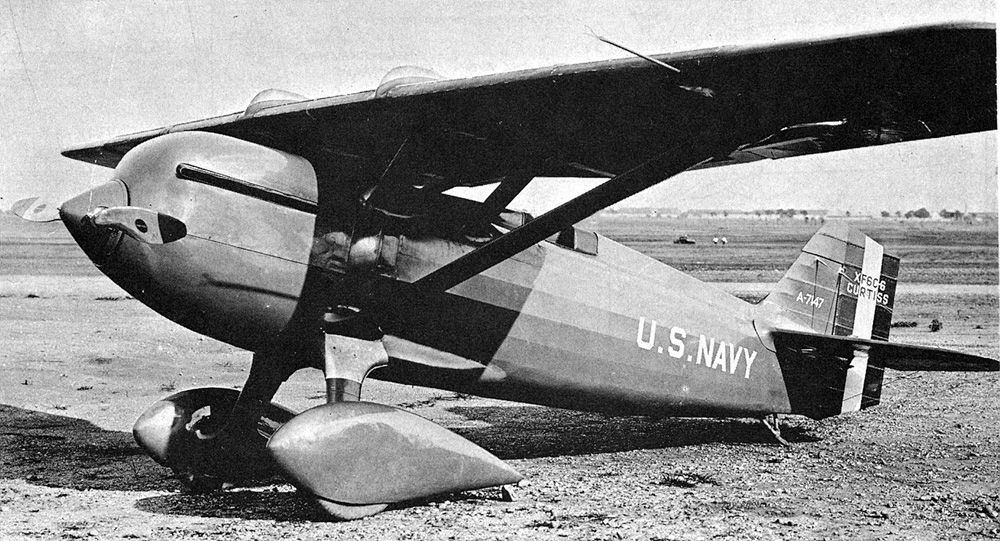 Captain Page's F6C-3, s/n A7147, was modified beyond recognition for this new event. Its 435 hp Curtiss D-12 engine was replaced with a 750 hp Curtiss Conqueror, the lower wing was removed and skin radiators were fitted to the, now, parasol wing. In addition there were many general refinements and tweaks to make it, unofficially, the fastest landplane in the world - capable of 250 MPH.
The Race
Seven entrants showed up for the start of the first Thompson Trophy Race September 1, 1930 at Curtiss-Reynolds Airfield (later Glenview Naval Air Station) north of Chicago. They were waved off at ten-second intervals to do 20 laps of the five-mile course. First off was the Page Racer followed by Frank Hawk's Travel-Air R-2004 "Mystery Ship", Benny Howard's tiny DGA-3 "Pete", Jimmy Haizlip's Travel-Air R-2003 "Mystery Ship", Errett Williams' Wedell-Williams, "Speed" Holman's Laird Solution and Paul Adams' Travel-Air Speedwing. In subsequent Thompsons the "Race Horse Start" was adopted as interval starting makes it impossible for the spectators and participants to know the racers' positions. By lap three Page had lapped the field and Frank Hawks was out with engine troubles. On lap eight Errett Williams was also out with engine ills. Holman and Haizlip were racing hard for second place; Holman was faster but Haizlip was flying a better race. On lap 17 Page flashed past the two of them high and outside and dived into the ground at a steep angle. Holman narrowly beat Haizlip and Benny Howard brought his 90 hp Pete home third followed by Paul Adams in last place.
Page died the next day in an Evanston hospital. Investigation of the crash suggested his engine lost power and nearly quit as he passed Holman and Haizlip and he, being weakened by heat exhaustion, dehydration and carbon monoxide poisoning, misjudged his control inputs and flew the crippled plane into the ground
The Kit
As the subject was a beautiful plane, so the kit is a beautiful example of the kit manufacturer's art and craft. The better, or more expensive, a kit is the more we expect of it. This is a very, very good, very expensive kit and the quality of it justifies its high price. It reminds me of the Atelier Noix resin kits of racers. The 18 parts, cleanly cast in a putty-grey resin, are near perfection; one wheel pant in my kit has a tiny bubble hole.
Accuracy wise I have only three quibbles with the kit: 1. The carburetor intake atop the engine cowling is not included. The plane was tested both with and without this intake but it was raced with it installed, 2. The relief in the lower aft fuselage for the tailskid is quite a bit too large and
3. The stabilizer did not fit down flush with the top longeron of the fuselage as depicted in the kit. Photos clearly show a large gap here. I suspect it was clearance for stabilizer trimming movement. All three problems are easily rectified by the model builder.
There are no fine details such as the pitot tube, aileron push-pull rods and mass balances, elevator and rudder cables and mass balances and none of the rigging of the cabane struts.
The decals are well printed but the blue looks too light to me and the standard US Navy propeller tip markings should be red-yellow-blue from the tip inward rather than red-white-blue as on the decal sheet. Photos show the serial number on the fin was white; the decal sheet provides it in black.
All photos of the Page Racer show polished metal cuffs over the upper ends of the landing gear struts, these are not addressed by the kit. Several photos show a darker color on the wheels pants and landing gear struts but others do not; take your choice.
Conclusion
I like this kit. It is very well executed and represents a beautiful, one-off, subject. That's as good as it gets for me.
I paid $93.50, including postage, for my kit purchased on-line at http://www.fishermodels.com/
Buy one; you'll like it.
Now, Paul, how about a 1/48 Supermarine S.4? I think it was the best looking of all the Schneider racers.
References
· Racing Planes and Air Races, Vol. II 1924-1931: Reed Kinert, Aero Pubs, USA, 1967/69, Library of Congress Card No. 67 16455, pp70-82.
· Thompson Trophy Racers: Roger Huntington, Motorbooks, USA, 1989, ISBN 0-87938-365-8, pp 103-4.
· The Golden Age of Air Racing, pre 1940: S.H. Schmid & T.C. Weaver, EAA, USA, 1963,83 & 91, ISBN 0940000-00-8, pp116-21.
· American Aircraft Modeler, October 1971: Article Incredible Hawk, Don Berlin.