Internet Modeler : First Look : Aviation
RSS News Feed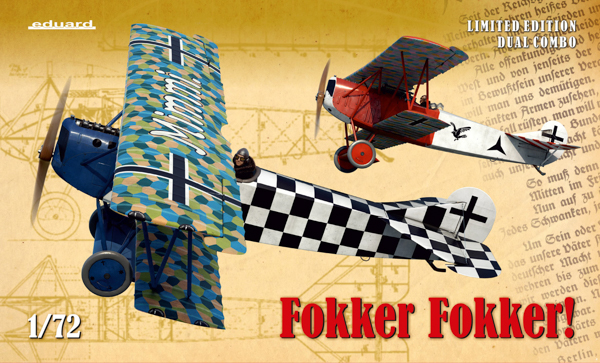 Fokker Fokker!
Introduction
To be truthful, I tend not to read the introduction on instruction sheets. Normally their history on the type in question is extremely brief and to me, not helpful. However, I decided to read the introduction on Fokker Fokker! and found it to be worthwhile reading. It gives a concise history of the Fokker D.VII both about why the type was contracted out and to which companies. In addition, a quote in the introduction explains precisely why the Fokker D.VII was the only aircraft specifically named in the Versailles Treaty:
"The Fokker was a thoroughbred that followed the slightest hand movement and almost anticipated the intention of the pilot."
That was a quote attributed to Rudolf Stark, the CO of Royal Bavarian Jasta 35.
The Kit
This is the first release by Eduard of Fokker-built versions of the D.VII in 1/72. In the box you receive enough parts to build two models and with the inclusion of the correct parts, you could make either an early Fokker-built D.VII or the later, much-improved Fokker D.VIIF.
So not only do you receive many plastic sprues for the two aircraft, but you also receive two phototetch frets and two Brassin resin engines, both the Mercedes for the early-built D.VII as well as the BWM engine for the D.VIIF. Also included in this release are a set of masks.
Since Internet Modeler has already reviewed both the Albatros and O.A.W. releases, I refer the reader to those First Looks for a more detailed look of what is contained within an Eduard 1/72 Fokker D.VII kit. Just know that instead of either the Albators or O.A.W. fuselages you receive the Fokker-built specific fuselage halves. Everything else is the same.
The Fokker Fokker! boxing from Eduard comes with decals for 12 Fokker D.VIIs:
Fokker D.VII Early, mil. No unknown, Hptm. Rudolf Berthold, CO of JG II, Le Mesnil-Nesle, France, June 1918
Fokker D.VII Early, 365/18, Lt. Josef Carl Peter Jacobs, CO of Jasta 7, St Marguerite, France, August 1918
Fokker D.VII Early, 387/18, Oblt. Harald Auffarth, CO of Jasta 29, Aertrycke, Belgium, October 1918
Fokker D.VII Early, 286/18, Vzfw. Willi Gabriel, Jasta 11, Cappy, France, May 1918
Fokker D.VII Late, mil. No unknown, Heinz Küstner, Jasta 18, Habsheim, Möntingen, Metz, France, October/November 1918
Fokker D.VII Late, 4301/18, Vzfw. Otto Heinrich Baurose, Jasta 71, Habsheim, France, November 1918
Fokker D.VII Early, mil. No unknown, Oblt z. S. Gotthard Sachsenberg, CO of MFJ 1, Coolkerke, Belgium, September
Fokker D.VII Mid, 505/18, 2592, OStv. Friedrich Wilhelm Hippert, Grenzschutz-Ost, East Prussia, 1919
Fokker D.VIIF 4282/18, Ltn. d. R. Arthur Laumann, Jasta 10, Bernes, France, August 1918
Fokker D.VIIF mil. No unknown, Oblt. Erich Loewenhardt, Jasta 10, Puisieux Ferme, France, August 1918
Fokker D.VIIF, 4253/18, Oblt. Ernst Udet, Jasta 4, Beugneux, France, July 1918
Fokker D.VIIF, mil. No unknown, Rtm. Karl Bolle, CO of Jasta 2, Lens Mons, France, October 1918
Not only do you receive the decals for the very colorful aircraft listed above, but you also receive both four- and five-color "lozenge" decals for those aircraft that were finished with that fabric. Note that a couple of the aircraft above were delivered early enough to be finished in the "Fokker streaked fabric" fuselage, the same as how the Fokker Triplane was finished.
Conclusion
There are a lot of great schemes with this release so you definitely have a great pick of unique finishes. You may - as I plan on doing - want to pick up a couple of the Overtrees, plastic-only D.VII releases to use the rest of these decals with. They definitely showcase just how colorful a lot of the Fokker D.VIIs were finished during The Great War.
Many thanks to Eduard for supplying the review boxing.