Internet Modeler : First Look : Aviation
RSS News Feed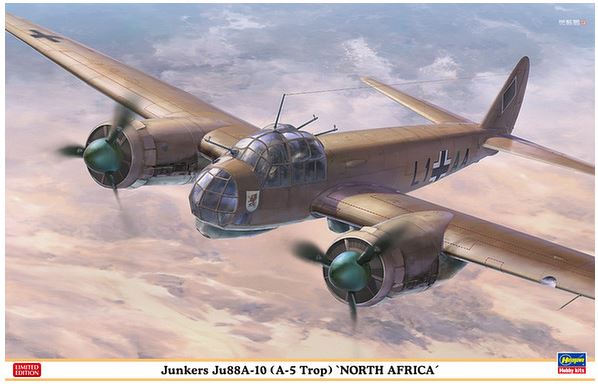 Hasegawa 1/48 Ju88A-10 (A-5 Trop) "North Africa"
The Plane
The Junkers Ju 88A-5 was an interim variant of the Luftwaffe's workhorse, twin-engined bomber powered by the 1,200 hp Jumo 211B engine. It entered production in the spring of 1940. The A-5 was based on a modified A-1 air frame with extended outer wing panels that increased the wing span to 65 feet, 7 ½ inches. "Inset" (i.e., inboard of the wing tips) metal ailerons replaced the A-1's fabric covered ailerons. The airframe modifications improved control response and maneuverability.
| | |
| --- | --- |
| | |
In addition to its internal bomb bays, the A-5 also carried a ETC 250 bomb rack under each wing. Although these racks were rarely used in combat each could carry 2 550 lb bombs. An FuG81Z 25 IFF (Identification Friend/Foe) transceiver was added to the radio equipment. Defensive armament remained twin MG 15 machine guns in the canopy rear, and another MG 15 in the ventral cupola. Late A-5s had a revised antenna with dual lead-in aerials and a larger rudder mass balance. Some planes replaced the ventral MG 15 with the twin MG 81Z. Late production A-5s utilized either the 1,200 hp Jumo 211G or H-1 engines.
| | |
| --- | --- |
| | |
The Luftwaffe made numerous modifications to all of their aircraft that operated in North Africa and the Mediterranean. For the Ju 88 these modifications included internal sand filters on the engine air intakes and desert survival gear for the crew-sun shades, guns for hunting, additional water containers, etc. The designation A-5/Trop refers to planes modified in-theatre at conversion centers, whereas a Ju 88A-10/Trop was an A-5 modified on the production line.
The Kit
This is the new ICM kit in a Hasegawa box. It consists of approximately 201 parts on 7 sprues, one of which is clear. 3 of the clear parts go unused for this variant. My first impressions of the kit are positive. The parts are cleanly molded with minimal flash. They are nice, but lack Hasegawa's customary crispness. This is apparent in small parts like the radio faces and the wheel wells, which are slightly soft and indistinct in detail. The panel lines are nicely done, albeit uniform in depth and width. It must be said that ICM has come a long way from their accurate but sink mark covered Spitfire Mk.IX of the recent past...The clear parts are well done with minimal distortion, and the canopy frame lines are fairly prominent. This is a good thing and it will make covering the multiple panes with Bare Metal Foil, Tamiya masking tape, or masks that much easier. There is minimal flash on these parts, easily removed with several swipes of your sanding stick.
| | |
| --- | --- |
| | |
The cockpit is convincingly busy and it is a detailed, multi-piece assembly. The detail on some parts is soft and indistinct, with very small sink marks on some of the sidewall consoles. You can use the instrument panel dials provided on the decal sheet, or some of the numerous aftermarket options (such as the Eduard P/E set, which I will review soon) for greater accuracy. The Ju 88 cockpit was RLM 66 Black Gray, a rather dark color, so I would lighten the paint for the cockpit to be visible in the completed model. I also recommend oil washes and dry brushing to bring out the detail.
| | |
| --- | --- |
| | |
The control surfaces on both wings and horizontal stabilizers are separate. This allows you to leave them off during assembly and painting. I think the easier it is to handle a large model, the better. The engine nacelles are complex assemblies, which is appropriate, given that they also house the landing gear. Each nacelle includes a complete Jumo 211B engine. Each engine consists of 18 pieces including radiator faces and engine bearer arms. And each nacelle has an open hatch on either side, giving you the option of closing them or leaving them open, for that airfield diorama you've doubtless always wanted to build. Just make sure that you have good photographic references for the engine nacelles. This is a busy area with numerous wires, hoses, etc. The landing gear are assembled, attached to the lower wings and painted before the engines and their nacelles are attached over them. I recommend lots of dry fitting to ensure that everything lines up before final assembly. 4 SC 500 bombs are included and they are well molded, with very good raised detail and separate braces.
The decal sheet is commendably thin, crisp, legible, and in-register with good color and opacity. Wing walks, instrument panels and stencils are included. It includes markings for 2 aircraft:
"L1 + AA," Stab/LG1, Kommodore Oberstleutnant Friedrich-Karl Knust, Mediterranean 1941. RLM 79 Sand Yellow over RLM 65 Light Blue, with green spinners.
"L1 + LW," 12./LG1, North Africa 1942. RLM 79 over RLM 65 Light Blue, with RLM 04 Yellow spinners and yellow and white fuselage bands.
The instructions are an interesting reflection of the collaborative nature of this kit, in that they combine ICM assembly drawings with Hasegawa's usual part and decal placement maps. Color callous are for GSI Creos (Gunze) Aqueous and Mr. Color paints.

Conclusion
This is a first class production. It is highly detailed and accurate. There are numerous aftermarket decals available, if overall Sand planes don't excite you. Tooling is expensive, and it makes economic sense for manufacturers to save money by sharing molds. It also inadvertently illustrates the surprise awaiting the modeler who opens the box, expecting plastic from Company A and instead finds plastic from Company B...
I recommend this kit and I would like to thank Hasegawa USA for the review sample.
References
Junkers Ju 88 in action Part 1, by Brian Filley, Aircraft Number 85, Squadron/Signal Publications, 1988
Junkers Ju 88, Volume 1, by Krzyztof Janowicz, Kagero Publications, 2005