Internet Modeler : First Look : Aviation
RSS News Feed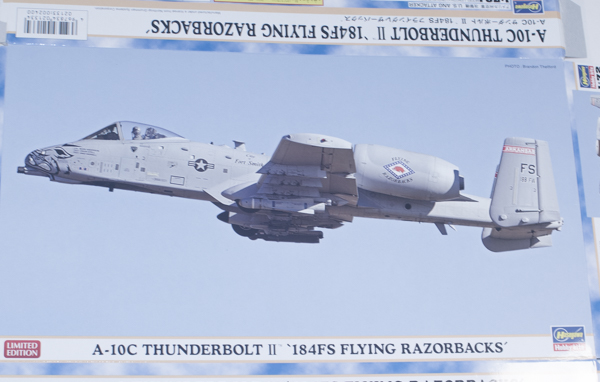 Hasegawa 1/72 A-10C Thunderbolt II "184FS Flying Razorbacks"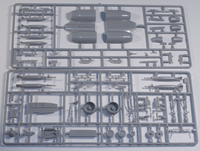 Introduction
Hasegawa's 1/72 A-10C has been on the market for quite some time. Granted it's still their A-10A kit with additions to make it the A-10C which primarily consists of a new sprue for the A-10C additions (antenna, etc.), but it's still a decent kit.
The Kit
The Hasegawa 1/72 A-10C consists of 92 pieces of gray, injected plastic (there are more parts in the kit, only 92 are to be used for this boxing) and a clear sprue with five pieces. Decals are for two aircraft: Arkansas ANG 188FW 184FS "Flying Razorbacks"; and Indiana ANG 122FW 163FS "Blacksnakes" (IN661). Both are finished in the typical two-tone grey of the A-10 fleet and the decals, being printed by Cartograf, are in register and look nice.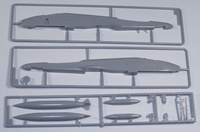 Since this kit has been around for quite a long time, most are familiar with it. Construction is in the usual sequence so I won't bore you with that. However, you'll want to pay very close attention to the machine you're building and definitely track down photos of the aircraft. There are items still on this mold that don't exist in the A-10C fleet anymore so not only pay very close attention to the instructions but also look closely at all photographs of the machine. This also applies to the armament. Hasegawa still provides the triple rail launchers but due to reliability problems the USAF switched to a single-rail launcher. You can either modify the kit parts or track down replacement launchers. Plus, Hasegawa doesn't include any of the external "pods" (e.g. the LITENING pod) nor more "modern" ordnance like JDAMS so those too will need to be sourced elsewhere.
Conclusion
All in all, though, the Hasegawa kit is still a decent A-10 in 1/72. Still buildable but be aware all the external detail is raised so you'll either want to create raised detail if you sand any away, or go full-out and re-scribe the entire model. Me, I'm going to use Archer Fine Transfers since they make "weld line decals" that work great in representing raised detail.
I definitely thank Hasegawa USA for sending the review model.