Internet Modeler : First Look : Aviation
RSS News Feed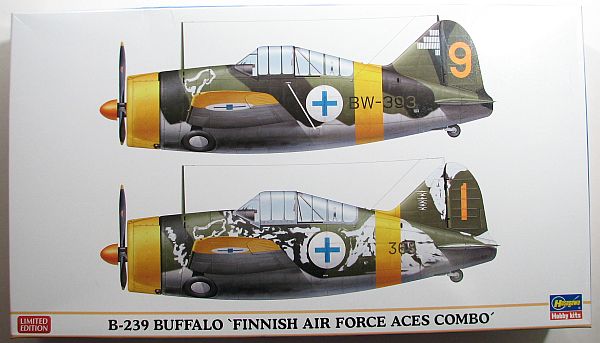 Hasegawa 1/72 B-239 Buffalo 'Finnish Air Force Aces Combo'
Introduction
When initially released, the Hasegawa 1/72 Brewster Buffalo was considered the best of this diminutive fighter. Even though other companies have released newer 1/72 Buffalo, the Hasegawa kit still holds its own, and is definitely one worth tracking down.
The Kit
This time Hasegawa has re-released their 1/72 Buffalo into the B-239 version, as a dual combo (two kits in one box) with decals for three Finnish WW2 aces. The Finnish pilots were able to use the Buffalo to their advantage against the Soviet air forces (VVS) during The Winter War. Because of that, numerous pilots became aces, and Hasegawa highlights three of them:
Finnish Air Force 3/LeLv 24, Pilot Lt. Hans Wind (orange 9: BW-393), September 1943
Finnish Air Force 3/LeLv 24, Pilot Sgt. Nils Katajainen (orange 1: BW-368), March 1942
Finnish Air Force 2/LeLv 24, Pilot MSgt. Ero Kinnunen (white 2: BW-352), September 1942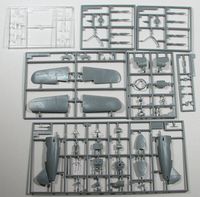 The kits are typical Hasegawa, with fine, recessed panel lines and adequate detail. Adequate because while the exterior is top-notch, the interior could definitely use help, especially if wanting to display the canopies opened. Each B-239 kit has 54 pieces of injected plastic, and four pieces of clear (windscreen, gun sight, sliding canopy and rear canopy section). Since there are parts on the sprue for all the other versions of the Buffalo, you'll have parts left over. The decals are up to Hasegawa's standard with no registration problems evident.
Naturally construction starts with the cockpit. It's decent enough if leaving the canopy closed, but if wanting to display it open you'll probably want to add more detail. One item worth adding would be seat belts, regardless. Once the cockpit is assembled and painted, it can be added to one fuselage half, along with the instrument panel and then both halves glued together. From here the wing halves are assembled then glued to the fuselage, along with the tail-cone (assembled from two halves) and the horizontal stabs. In addition, everything that goes under the canopy is glued on as well, including the antenna and head rest for the pilot.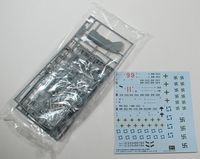 Attention is now turned toward the one-piece engine. After painting, and applying washes and dry brushes, it is added to the cowl after piecing it together. The cowl is then added to the fuselage and the front of the cowl added to it, and now the model is ready for overall painting.
Once painting is finished then you'll add the landing gear, antennas and canopy (unless you glued the canopy down prior to painting).
Conclusion
This is still an excellent rendition of the Brewster Buffalo in 1/72. Hasegawa has added value by including two full kits as well as including the markings for Finnish aces. These will really make this release look great.
My thanks to Hasegawa for sending the review sample.