Internet Modeler : First Look : Aviation
RSS News Feed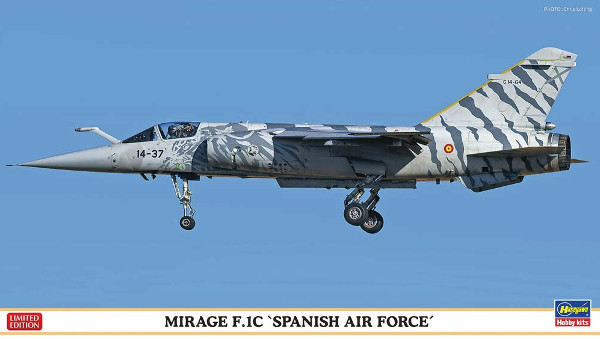 Hasegawa 1/72 Mirage F.1C "Spanish Air Force"
The Plane
Dassault-Breguet's Mirage F.1C dispensed with the delta wing associated with earlier Mirage variants, in favor of a shoulder placement (on top of the fuselage sides) to improve landing and take-off capabilities. It is an all weather fighter/high altitude interceptor equipped with the powerful Cyrano 4 FCS radar. It is powered by the 5,000 kg thrust SNECMA Atar 9K50 jet engine. It has fixed armament consisting of 2 DEFA (Direction de Etudes et Fabrication d'Armament) 30mm cannons. Its maximum speed is Mach 2.2/12.200m.
The Kit
This is one of Hasegawa's "Limited Edition" kits; actually it's two kits in a single box! The kit is from several generations back, in terms of tooling. This means raised panel lines and a greatly simplified cockpit. It consists of 49 parts on 5 sprues (x 2), one of which is clear. Don't be fooled by the low parts count. The fuselage detail is well rendered and the wheel wells are commendably deep. The landing gear in particular are well done and accurate capture the muscular look of the F.1C. If you have a steady hand, a pin vise, drill bits and a decent magnifier you might want to drill out the air brakes for greater accuracy.
The cockpit is rudimentary so I would keep the canopy closed, or use a pilot figure or a more detailed aftermarket ejection seat if you're feeling ambitious about making the cockpit a focal point. You also get a standing pilot figure and under wing stores, in the form of a 320 gallon drop tank and one pair each of Matra R.550 Magic and R.530 air-to-air missiles.
The most exciting thing about this kit is the decal sheet. It includes 2 complete sets of stencils, plus anti-glare panels, instrument panels, and sidewall consoles. Modern a/c are covered with numerous stencils and I commend Hasegawa for including such a comprehensive set; the lack of these was a shortcoming of many of their older jet kits.
The decals are well printed, in register and legible; they're also pretty thin, for a Hasegawa kit...Both decal options are overall Grey, but one of the aircraft has the elaborate markings of a Tiger Meet aircraft. This plane, "14-37", was from Spanish AF Ala 14, and it was decorated for Tiger Meet 2012. The instructions are up to Hasegawa's usual standards. They are well illustrated and feature a logical build sequence, a parts map, and color callouts for GSI Creos (Gunze) Aqueous and Mr. Color lacquer paints.
Conclusion
Many manufacturers have tried their hand at the Mirage F.1, including Airfix, Esci and Hasegawa. This is an old kit in a new box. It is the perfect subject for a "paint job" showcase, which is what I think this Limited Edition boxing is all about. If that's your goal, or a simple, no-fuss build, I think you'll be quite happy with what you find it the box. If you prefer recessed panel lines and rather more in the way of cockpit detail and overall refinement, you might want to have a look at the recent Special Hobby kits. I would like to thank Hasegawa USA for the review sample.
References
DEFA Cannon: https://en.wikipedia.org/wiki/DEFA_cannon
Matra R.550 Magic: https://en.wikipedia.org/wiki/R.550_Magic
Matra R.530: https://en.wikipedia.org/wiki/R.530