Internet Modeler : First Look : Aviation
RSS News Feed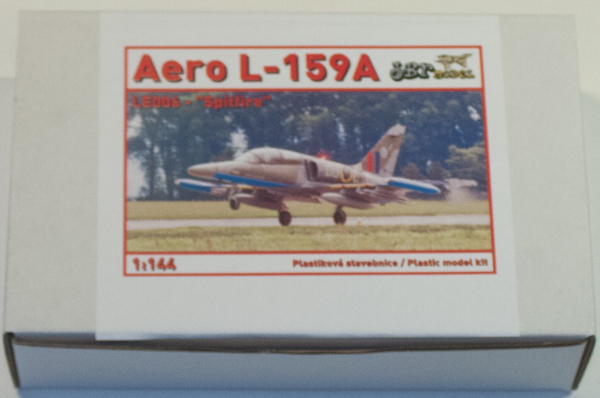 JBr Decals 1/144 Aero L-159A "Spitfire"
I've gone into detail on the Minwing 1/144 L-159 series of models. Not only can you build the L-159A but also the L-159E, which was a re-branded L-159A that was sold to Draken International. JBr Decals has taken the Miniwing 1/144 L-159A and packaged it with special markings. There are two releases, one that covers the L-159A Prototype and this one, which includes special markings to commemorate the patron of the squadron, Czech WWII ace general František Peřina.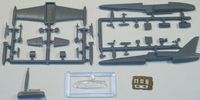 Please read my review of the Miniwing kit for a description of what's usually contained in the box. For this "Spitfire" release JBr Decals has included the plastic parts (including the clear canopy), the fret of photoetch and two pieces of resin: the center-section pylon; and a PL-20 Plamen cannon pod that goes onto that pylon. There are decals for only one aircraft, and that one is painted in WWII British camouflage with Light Blue "masking out" sections of the L-159 that don't look like a Spitfire. It's actually a very striking scheme and will look great once finished. Decals are finished to JBr Decals' usual high finish so you can be assured of them being in register. However it's still unfortunate they didn't include seat belt nor instrument panel decals as that area looks a little bare without them.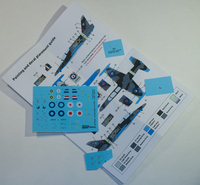 But even so, don't let that stop you from picking up this kit! It's a very nice scheme for otherwise an all-gray aircraft. I think it will look great sitting next to a "typical" front-line service Alca model. And remember, Peewit has released masks for this model which will greatly speed up completion.
I definitely thank JBr Decals for sending this to review.