Internet Modeler : First Look : Aviation
RSS News Feed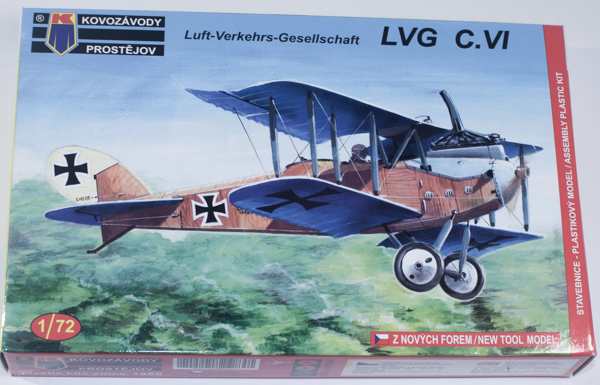 Kovozávody Prostějov 1/72 LVG C.VI
Introduction
Taken from Wikipedia:
"The aircraft was designed by Willy Sabersky-Müssigbrodt and developed by Luft-Verkehrs-Gesellschaft (LVG) in 1917. The C.VI was a further development of the C.V, which Sabersky-Müssigbrodt had made for his former employer DFW. It was lighter, smaller and aerodynamically refined, although its fuselage seemed more bulky. It was a biplane of mixed, mostly wooden construction. It featured a semi-monocoque fuselage, plywood covered. Rectangular wings of wooden and metal construction, canvas covered. Upper wing of slightly greater span, shifted some 25 cm (10 in) towards front. Vertical fin plywood covered, rudder and elevators of metal frame canvas covered, stabilizers (tailplanes) of wooden frame canvas covered. Straight uncovered engine in the fuselage nose, with a chimney-like exhaust pipe. Two-blade Benz wooden propeller, 2.88 m (9.45 ft) diameter. Flat water radiator in central section of upper wing. Fixed conventional landing gear, with a straight common axle and a rear skid. Aircraft were equipped with a radio (morse;send only); transmissions were by means of an antenna which could be lowered below the aircraft when needed. The crew had parachutes and heated flying suits. A total of 1,100 aircraft of the type were manufactured."
It's due to the reason it was flown by multiple nations after WWI there are three surviving examples, one in the UK, one in Germany and the last in France.
The Kit
The Kovozávody Prostějov (KP) 1/72 LVG C.VI consists of 50 pieces of gray, injected plastic. Decals are for 2 schemes:
LVG C.VI, "Black 7", unknown unit, German Air Force, Western Front 1918 (purple and green upper surfaces and light blue lower surfaces)
LVG C.VI, 14400/17, prototype during aircraft testing, Adlershof, February 1918 (fuselage left in natural wood with purple and green flying surfaces and light blue undersides)
The first instruction steps deal with building up the multi-piece engine (which is really nicely done and only needs spark plug wires), all cockpit pieces (instrument panel, seat (with decal belts), fuel tank the seat sat on, rudder pedals and control stick) and building up the rear gunner's gun and gun ring (although you might want to wait to glue the gun to the gun ring after the ring is glued to the fuselage, but best done at the very end of the build).
Once these pieces are assembled then they're added to one fuselage half prior to gluing the halves together. Then, depending on the aircraft being modeled, you add the engine shroud but I would leave the gun/gun ring and tail skid off until some of the last steps after painting and decaling.
Now the instructions move to adding the horizontal and vertical tail pieces and the landing gear pieces are glued together. Again, being an individual that has built multiple biplanes I would not work on the landing gear until the end, and start with tube-type glue to help with getting everything in line. While the next step has you add both the upper and lower wings at the same time, only glue the lower wings now (and instructions specifically state to NOT use CA on this joint) and wait until after painting and decaling to add the upper wing.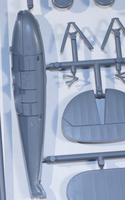 The instructions guide you in the placement of the upper wing in that it wants to be sure you glue the center struts at exactly 90 degrees to the upper wing, prior to gluing the wing to the fuselage (there is also a water tank (I think) that is added to the underside of the upper wing as well). Once it dries then add the interplane struts (all eight of them) and again, instructions specifically state not to use CA, probably so you have some fiddle time to get everything lined up.
Thankfully the instructions also include a full rigging diagram, something left off some other model instructions. Definitely welcomed.
Conclusion
This is an excellent kit of the LVG C.VI and with the multiple boxings KP provides you can build it as it appeared during WWI, or immediately after as it flown in other countries such as Czechoslovakia and Russia, etc. This could be the kit that gets me back into building WWI.
Huge thanks to Kovozávody Prostějov for sending the review kit.