Internet Modeler : First Look : Aviation
RSS News Feed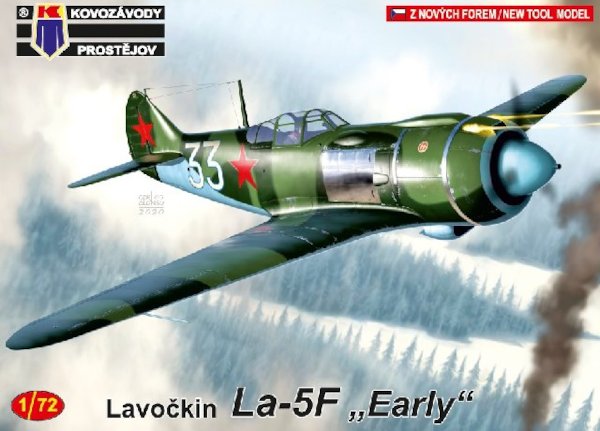 Kovozávody Prostějov 1/72 Lavochkin La-5F "Early"
This is KP's new 1/72nd scale Lavochkin La-5F "Early." It consists of 67 parts on 4 sprues. The parts are well molded with no flash. The sprue attachment points are well located so the parts will be easy to remove from them. Surface detail is by way of finely recessed panel lines with raised detail where appropriate. The smaller parts, such as the landing gear retraction struts, control stick, rudder pedals, etc., are executed with finesse.
The cockpit is a multi piece assembly and careful painting and washes will accentuate the detail. The cockpit and fuselage interior remind me of the 1/48th scale Zvezda La-5 kits, with prominent ribs and stringers molded to the fuselage sides and the separate cockpit superstructure. The instrument faces are reproduced in the form of a decal instrument panel.

There is even an open fuselage hatch for access to the oxygen bottle. A clever modeler could install a tiny LED light to illuminate this area! The fuselage halves look good. They effectively depict the all wooden fuselage, fabric covered rudder and the metal plates surrounding the exhaust stacks.
The wings are nicely executed. The wheel wells are molded as part of the upper wing halves and they are convincingly deep. The one piece lower wing looks good, too. The 14 cylinder M-82/82-A radial engine is nicely detailed but it will be all but invisible behind the movable cooling flaps; you have your choice of open or closed flaps. The propeller and spinner look accurate. The landing gear and gear doors are well molded and they capture the appearance of the 1:1 parts very well indeed. The clear parts are clear, thin and distortion free and include open or closed canopies plus the PBP-1A gun sight and canopy armor.
The small decal sheet is well printed. The colors are bright, the letter is crisp and legible and everything is in register. It includes a seat harness, instrument panel and markings for 3 different La-5Fs:
"White 18", Lt. I. Sytov, 5th GIAP (Guards Fighter Regiment), Autumn 1943. This plane is AMT-4 Green and Black over AMT-7 Blue with a White spinner, natural metal cowling bands and 23 Red kill markings on the upper rear fuselage.
"White 33", A. Maresyev, 63rd GIAP, Kursk, Summer 1943. This La-5F is AMT-4 Green and Black over AMT-7 Blue with a Light Blue spinner, cowl ring and natural metal cowling bands.
"White 94", 159th GIAP, Leningrad area, Summer 1944. AMT-4 Green and Black over AMT-7 Blue with an AMT-4 Green spinner and natural metal cowling bands.
The instructions are well illustrated and feature a parts map and color call outs for Humbrol and Agama paints. There are color profiles on the bottom of the box.
I have always been a fan of the Lavochkin La-5 and it's exciting to have KP's new 1/72nd scale La-5F kit. It is an accurate and well detailed kit. I wonder how well the cockpit and fuselage will come together but there's only way to find out: build it! I recommend this kit and I would like to thank Kovozávody Prostĕjov for the review sample.
References
Lavočhkin La-5, by Miloš Veštšik and Jiřί Vraný, MBI Books, 2006