Internet Modeler : First Look : Aviation
RSS News Feed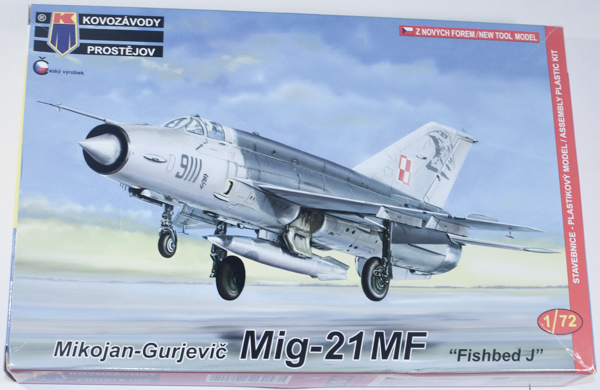 Kovozávody Prostějov 1/72 MiG-21MF
Introduction
While there have been some releases of the MiG-21 in 1/72 some are questionable in terms of accuracy while others have problems with fit. We're still waiting on the definitive 1/72 MiG-21 series but this release by Kovozávody Prostějov (KP) is a step in the right direction. Granted, I've read where this KP MiG-21MF is actually a re-release of the RV Resin kit with some changes.
The Kit
The KP 1/72 MiG-21MF consists of 107 pieces of gray, injected plastic and five pieces of injected, clear plastic (one windscreen, two canopies and two landing lights). Markings are for four MiG-21MFs:
9111, Polish Air Force, early nineties
781, Jagdfliegergeschwader 9 "Heinrich Rau", East German Air Force, Peenemunde AB, 1980
7713, Slovak Air Force, 1998
9805, 4th Tactical Air Force Base, 211th Squadron, Czech Air Force, Caslav Air Base, September 2004 (although it has Hungarian markings...)
Decals appear decent enough and appear to be in register.
As with most aircraft models construction starts with the cockpit and out-of-the-box the KP MiG-21 has a lot of excellent detail. The cockpit tub is built up of a floor, seat and sides, to which is added the rudder pedals, control stick and two-part seat (but no belts are provided). In these first construction steps the exhaust pipe is also built up of a two-piece "pipe", a piece with the fan "blades" and the actual exhaust cone. One of the other steps is construction the nose cone in which weight is added then attached to the nose gear well. These are all parts of the first steps of the instructions because all of this is added to one fuselage half prior to gluing the halves together. With that instruction step the stabs are glued onto the fuselage as well.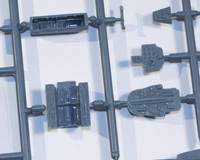 The next instruction steps have you add the wings and "everything else". Study the instructions, though, because some of the items are best added after painting while there are some – like the under-nose gun port – that you want to add prior to painting.
Conclusion
This is a really nice MiG-21 but how it builds is yet to be determined. I have read some reviews of the "original" RV Aircraft MiG-21 where there have been some fit issues. But that's what modeling is all about, right? Sometimes kits don't go together as well as had hoped so we just persevere and finish the job. But it still needs to be seen about this series of MiG-21s and I'm hoping they won't be that bad.
My thanks to Kovozávody Prostějov for sending this MiG-21MF in for review.