Internet Modeler : First Look : Aviation
RSS News Feed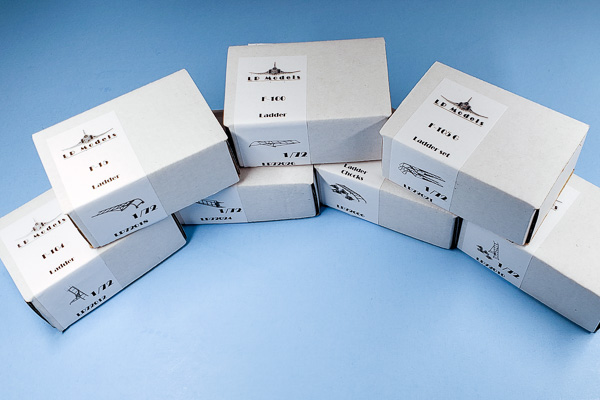 LP Models 1/72 Aircraft Ladders
Overview
One item that I think is really great to have, especially with some sort of display or diorama, is a decent ladder to set next to your modern jet, especially if you keep the canopy open. In the past you've had such modeling ladders like photoetch, injected plastic or "standard" resin types. Now, LP Models takes it to a whole new level with their 3D printed ladders. These are extremely clean and detailed, right out of the box.
The Ladders
LP Models was kind enough to send us a number of 1/72 ladders to review. All are very well printed, with no dithering at all, meaning there is NO clean up needed. None, zilch, nada. The ladders LP Models supplied for review are:
| | |
| --- | --- |
| LP72006 MiG-29 with Chocks | |
| LP72010 MiG-21 with Chocks | |
| LP72012 F-104 | |
| LP72018 F-15 | |
| LP72020 F-16B/D | |
| LP72021 F-105G | |
| LP72024 Mirage III/Kfir | |
| LP72026 F-100 | |
All you need to do is prime the ladder after you take it out of the box then apply paint and weathering. I show this with the F-16 ladders I finished. I primed them with a Vallejo gray primer, then shot them with Vallejo Model Air 71.013 Yellow Olive. Once the paint was dry then I applied a black wash using Vallejo Model Wash followed by dry "brushing" using graphite art sticks.
Next we show the F-104 ladder next to a built kit.
And here we have the LP Models F-15 ladder next to the ladder supplied in the Hasegawa US Pilot/Ground Crew set, which includes an injected plastic ladder.
As you can see, the LP Models ladders not only look great next to a model, but also is more "too-scale" than an injected plastic ladder. There really isn't much to be done to the LP Models ladders aside from painting, weathering and then showing it off next to your build kit.
Huge thanks to LP Models for allowing us to review their superlative ladders.