Internet Modeler : First Look : Aviation
RSS News Feed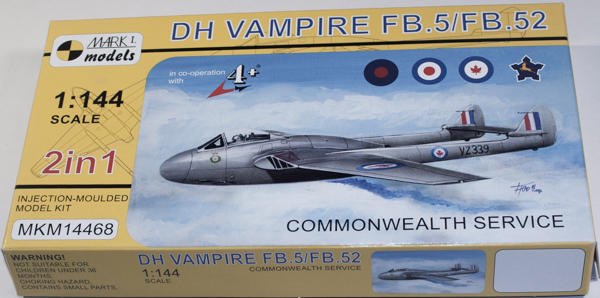 Mark I 1/144 DH Vampire FB.5 Commonwealth Service
The Kit
The Mark I 1/144 DH Vampire FB.5 consists of 31 pieces of gray plastic with a sprue of three, clear injected parts. Decals in this release are for four Vampires:
de Havilland DH.100 Vampire FB Mk.5, VV217, de Havilland Aircraft Company trials a/c, Hatfield airfield, 1949 (finished overall in aluminum)
de Havilland DH.100 Vampire FB Mk.5 VZ267, Black L, No.613 (City of Manchester) Sq., Royal Auxiliary Air Force, Ringway airfield, 1951-57 (finished with aluminum undersides and dark green/dark sea gray uppers)
de Havilland DH.100 Vampire FB Mk.5, VZ339, No.421 Sq., Royal Canadian Air Force, Oldham airfield, U.K., spring 1951 (finished overall in aluminum)
de Havilland DH.100 Vampire FB Mk.52, Black 238, Advanced Flying School, South African Air Force, Air Force Base Pietersburg, S.A., 1968 (finished overall in aluminum but with dayglow wing-stripes, nose and book-stripes)
Decals are typical Mark I and look really well done. Since there are two models in the box you can choose your two favorite schemes to build!
As with most aircraft models construction starts with the cockpit, and it consists of a floor, rear bulkhead, seat, control column and instrument panel with decal. Once the cockpit is built and painted it can be added to the underside fuselage-half along with the intake splitters, exhaust (after painting, of course: it might be able to be left off until the end but I won't know until I actually start one) and five grams of weight. After all that has been added then the fuselage halves can be glued together.
The next step in the instructions have you add the booms, horizontal tail between the booms and the canopy (once masked, of course). I've read on some reviews where you need to take your time with the booms to ensure they line up and have a good, solid glue-joint.
The last instruction step has you turn the model over and start adding items to the underside. Most parts I would leave off until after painting and decaling, but it is here where you add the stabilizer balances, landing gear, gear doors and external fuel tanks.
Conclusion
Mark I has released a lot of nice kits lately and these Vampires are definitely some of them. Be aware there are multiple boxing's with different marking options so choose wisely and you'll have a nice Vampire added to your modeling shelves.
I definitely thank Kits-Shop for sending this boxing to review.