Internet Modeler : First Look : Aviation
RSS News Feed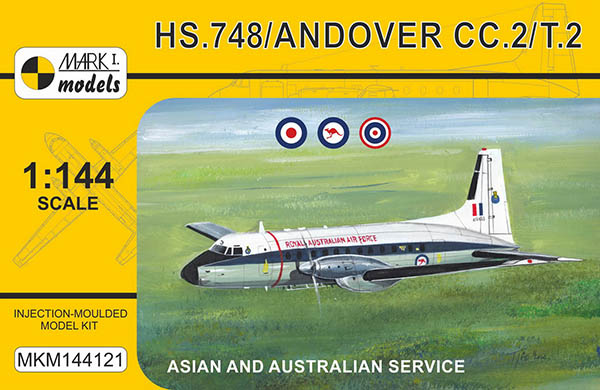 Mark I Models 1/144 HS.748/Andover CC.2/T.2
Overview
The HS.748 was a British short/medium-range twin-engined airliner designed during the late 1950s. It was originally developed and initially produced by A.V. Roe & Co., then – after its dissolution – by Hawker Siddeley Aviation and later by its successor, British Aerospace.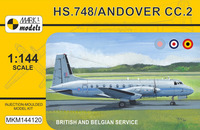 The 748 was a remarkably successful aeroplane and an effective DC-3 replacement in many parts of the world. The first prototype (G-APZV) first flew in June 1960. Initially, the Srs.1 version for 44 passengers was built (24 a/c), then production was switched to the 52-seat Avro 748 Srs.2, followed by the Srs.2A and 2B with further increases in power and maximum weight. A total of 350 HS.748s were built which also included 89 aircraft manufactured by Indian Hindustan Aeronautics and this type continued in production until 1988.
The HS.748 was a low-wing monoplane of an all-metal construction, fitted with a nose-wheel type tricycle undercarriage. The flight crew consisted of two members, while the cabin accommodated passengers or could be adjusted to mixed passenger/freight layout.
Powered by two Dart turboprop engines, it possessed a high level of performance, including short takeoff and landing (STOL) capabilities and overall ruggedness. In freight configuration the aircraft was capable of hauling payloads in excess of 10,000 lb (4,540 kg).
Significant users included the RAF, the Royal Australian Air Force and the Indian and Brazilian Air Forces, while the majority of the 748s were flown by various British and overseas airline operators.
The Kit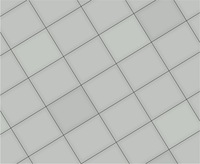 The colorful end-opening box reveals a single sprue of parts, hinting at the easy assembly of this model. The plastic features recessed panel lines and some pretty fine detail parts, including some small antenna pieces that will present a bit of a challenge in getting off the sprues. The decal sheet is fairly good sized as well, with markings for three aircraft, and as a final added bonus there is a printed cardboard display base.
Jumping into the construction, we begin with the fuselage. Two things of interest here, the first being the nose wheel well. This isn't a single piece, but rather a box assembled from multiple pieces. This undoubtedly allows for more detail to be molded in place, but you are left with building a box from a top, two sides, and a front piece. Interestingly, there is no rear piece to the wheel well, but perhaps the nose strut will hide that. For those who want to put something in there, though, it would not be hard to trim a piece of plastic card to fit.
The other interesting bit for the fuselage is the callout for the nose weight: 30 grams. A look at photos shows that the main gear of this plane is quite a bit forward, so there will be a lot of plastic weight behind them. Even more so as the horizontal stabilizers are a solid one piece for each side. Luckily, there are no clear parts, with all the windows and cockpit windscreen provided as decals, so there's more than enough room to pack in some steel.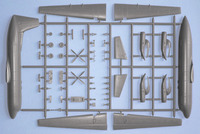 Moving on to the wings and engines, the engine nacelles are split in half, and are designed to slip over the wings. The wings are split into an upper and lower half for each side, with the lower part overlapping part of the fuselage for a sturdy assembly. Other engine bits include separate exhaust pipes and the four-bladed propellers, which are molded integrally with their spinners.
The landing gear looks to be fairly sturdy, which is good as this model will end up being a heavy one with all that nose weight. The nose gear strut is one piece, with separate wheels, while the main gear struts are built up from three pieces, not counting the separate wheels. The gear doors are separate, and while replacing the nose doors with thinner stock will yield a more realistic model, the main gear doors have a bulge on them that would make thinning them down challenging at best. Finally, the tiny fiddly bits include towel rack antennae for the underside of the fuselage and blade aerials for the top of the fuselage, along with two small probes for the sides of the nose.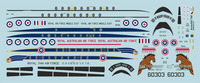 For decal options, all three share a similar color scheme consisting of a white top and gray everything else. The first scheme is a Royal Air Force Andover CC Mk.2 from No 21 Squadron, Royal Air Force Middle East, at Khormaksar Air Base, Aden Protectorate, in 1967. This plane features aluminum engine nacelles and a thin blue cheatline between the white and gray on the fuselage. The second option is an HS.748 T Mk.2 from the School of Air Navigation/No 32 Squadron, Royal Australian Air Force, at East Sale Air Base in Victoria, Australia from the late 1980s-early 1990s. This plane has a similar overall scheme to the RAF example above, with a bigger dark blue cheatline that covers the fuselage window height.
Finally, the last option is an ex-Thai Airways HS.748 that was taken on by the Royal Thai Air Force. This plane is from No 603 Squadron, No 6 Wing, at the Royal Thai Air Force Base Don Muang/Bangkok in 2014, and it features a special anniversary scheme. The fuselage cheatline doesn't wrap around the nose, but rather ends with an emblem and wings. It's also trimmed in yellow for some additional color pop. The anniversary markings on the tail, though, are the real treat, as it features a large jumping horse covering most of the vertical fin, and 50th Anniversary text in white outlined in black. This is definitely an eye-catching scheme.
Conclusion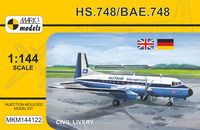 This looks like an interesting and easy kit to build up, without any real complications hiding anywhere that I can see. The colorful marking options coupled with the fairly simple painting schemes should make this a fun and quick build. Mark I Models has come out with three different boxings of this same kit, so there's plenty of options available. My thanks to Mark I Models for the review copy.