Internet Modeler : First Look : Aviation
RSS News Feed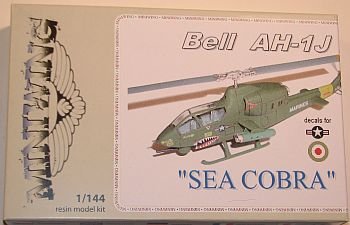 Miniwing 1/144 Bell AH-1J "Sea Cobra" FL
Introduction
From Wikipedia:
"The AH-1 Cobra was developed in the mid-1960s as an interim gunship for the U.S. Army for use in Vietnam. The Cobra shared the proven transmission, rotor system, and the T53 turboshaft engine of the UH-1 'Huey'.
"By June 1967, the first AH-1G HueyCobras had been delivered. Bell built 1,116 AH-1Gs for the U.S. Army between 1967 and 1973, and the Cobras chalked up over a million operational hours in Vietnam.
"The U.S. Marine Corps was very interested in the AH-1G Cobra, but preferred a twin-engined version for improved safety in over-water operations, and also wanted a more potent turret-mounted weapon. At first, the Department of Defense had balked at providing the Marines with a twin-engined version of the Cobra, in the belief that commonality with Army AH-1Gs outweighed the advantages of a different engine fit. However, the Marines won out and awarded Bell a contract for 49 twin-engined AH-1J SeaCobras in May 1968. As an interim measure, the U.S. Army passed on 38 AH-1Gs to the Marines in 1969. The AH-1J also received a more powerful gun turret. It featured a three barrel 20 mm XM197 cannon that was based on the six barrel M61 Vulcan cannon."
The Kit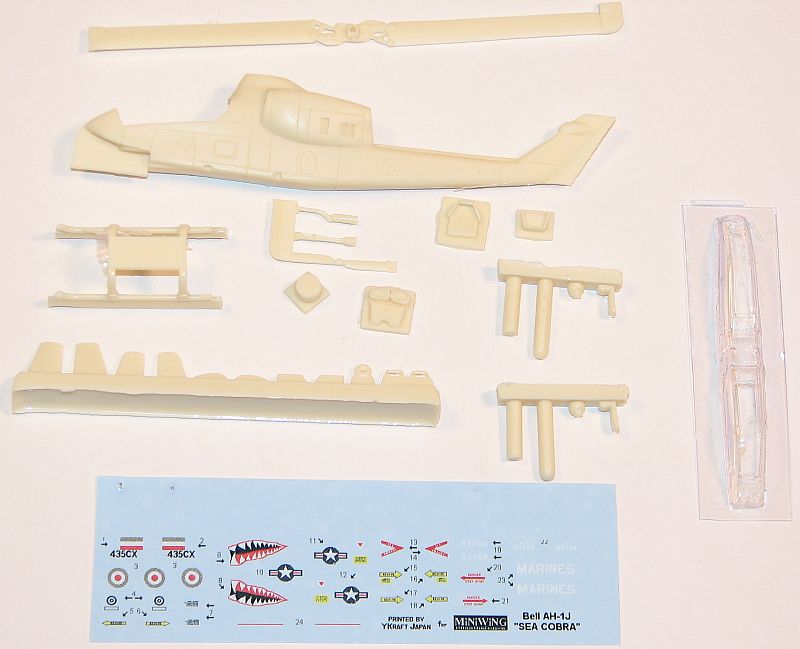 Miniwing provides thirty pieces of resin, two vacuformed canopies and lengths of plastic rod in this 1/144 AH-1J kit. Decals are for two separate versions, an AH-1J that flew for the U.S. Marines, and an Iranian Air Force AH-1J. Again, decals are ALPS-generated so extreme care must be taken.
There are four provided parts that go into the cockpit, two instrument panels and two seats. I'm not sure just how much will be seen through the large canopy, but it is a large area so you might want to add extra detail to the cockpit. Interestingly, Miniwing doesn't provide any decals for inside the cockpit. Usually they at least provide a decal that represents the seat "cushioning" and the seat belts, which is perfect for their kits. So it's unusual the AH-1J doesn't come with those decals.
Miniwing provides plastic rod for the rotor shaft.
Conclusion
All in all a very nice helicopter from Miniwing. There doesn't appear to be any droop to the blades so no worries with trying to add it in. Even with all the exterior detail to this kit, it shouldn't take too long to build.
Our thanks to Miniwing for sending this review kit.