Internet Modeler : First Look : Aviation
RSS News Feed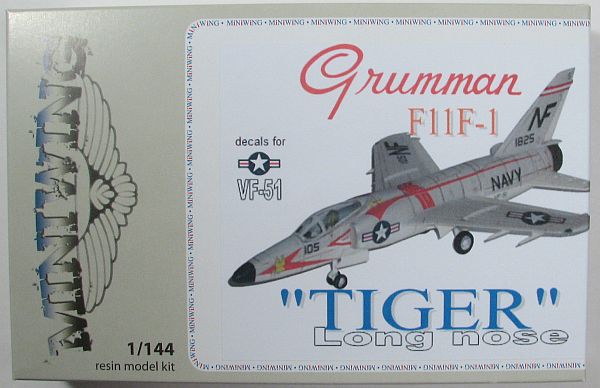 Miniwing 1/144 F11F-1 Tiger (Long Nose)
Introduction
It was interesting to see a gray resin with this release from Miniwing. I thought it was due to using a new resin, but the real reason was Miniwing wanted an easy way to tell the difference between this "Long Nose" and their prior "Short Nose" release. Not a bad reason to change the resin color.
The Kit
The Miniwing 1/444 Grumman F11F-1 Long Nose Tiger consists of 24 pieces of gray resin and a clear resin canopy. There is only one scheme provided for on the decal sheet, and that is for No. 141825 of VF-51, USS Ranger, 1958. Decals are ALPS-generated, so care must be taken. Because they are ALPS-generated, there is some "pixelation" in some of the colors, but it isn't as bad as some of the older Miniwing decals.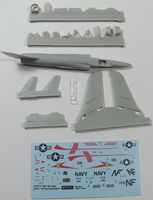 Construction is relatively easy and should go quickly. Glue the horizontal stabs to the fuselage, along with the wings. After painting and adding the decals to the cockpit and the ejection seat, then glue the ejection seat into the cockpit. (I will probably also add a control stick, since there isn't one provided.) Once that is done, then mask and glue the canopy on and move your attention to gluing on the weapon pylons, if so desired (there are no weapons provided). Now you're ready to paint.
The paint scheme is typical, finished in Light Gull Gray, with white undersides and upper control surfaces. The nose cone is finished in black and the exhaust finished in whatever color you use to paint exhausts. After putting a gloss coat over everything, decaling can commence.
Conclusion
Another excellent release from Miniwing. I really do enjoy their kits, especially since there isn't a lot to most of them. This F11F-1 "Long Nose" definitely fits that bill.
I definitely say "thank you" to Miniwing, not only for this F11F-1 review model, but also for continuing to release not only excellent kits, but also super kit choices.