Internet Modeler : First Look : Aviation
RSS News Feed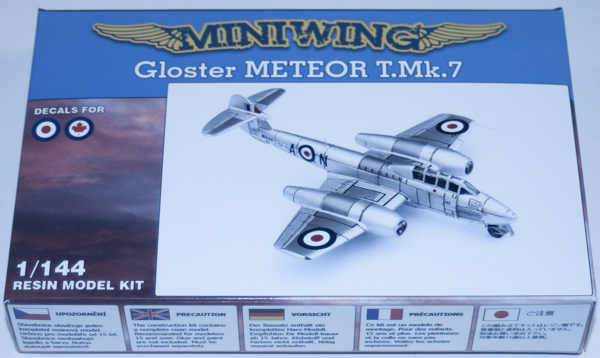 Miniwing 1/144 Gloster Meteor T.Mk.7
Introduction
Most people know the Gloster Meteor was the first jet for the U.K. and the first jet for the Allies during World War Two. The one thing I recently learned was the T.Mk.7 is actually the two-seat trainer for the single-seat F.4.
The Kit
The Miniwing 1/144 Gloster Meteor T.Mk.7 consists of 14 pieces of cream-colored resin, a clear-resin canopy and a vacuum-formed canopy. Also included in the package is a set of masks for the canopy. There are decals - from JBr Decals so they're bound to be good - for two T.Mk.7s:
WA740, No. 421 Sqn RCAF, RAF Odiham, 1951
WH144 N-A, No. 215 Advanced Tlying School RAF, 1953
Both aircraft are overall aluminum.
Construction is super-simple. After painting the single-piece cockpit (and the fuselage "pit" the cockpit goes into) and applying the seat and instrument panel decals the cockpit can be added to the fuselage and construction will be fast after that. The single-piece wing is then added along with the single-piece horizontal tail surfaces, canopy (masked with the provided masks) and auxilary fuel tank under the fuselage. After painting and decaling then the landing gear and landing gear doors can be added completing your 1/144 model Meteor.
Conclusion
If you ever had a need for an AMS-busting model this is definitely it. With the small parts-count and all the major parts being a single-piece, construction will be super fast. Plus when finished you'll have a good looking model of a two-seat Meteor on your completed shelves.
Huge thanks to Miniwing for the review kit.