Internet Modeler : First Look : Aviation
RSS News Feed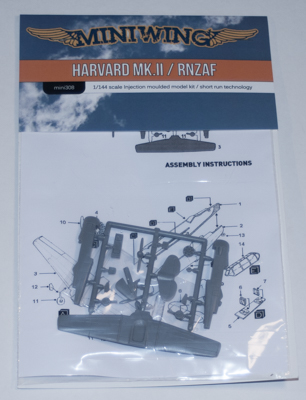 Miniwing 1/144 Harvard Mk.II
Since I've already provided a First Look at the Valom 1/144 T-6 Texan (coupled with the Platz kit) I'll refer the reader to that article.
For this release Miniwing has taken the Valom kit and added a new propeller and decals; everything else is the same as it comes from Valom, minus the resin antennas. The Miniwing prop is injected plastic and pretty decently molded. It differs from the kit prop in that it doesn't have a spinner and appears to be a different type all together. Since the decals come from JBr Decals they're of high quality and look really great.
One thing that is a problem, though, is the canopy. From the photos I have seen of this specific aircraft Miniwing has catered for, the framing on the actual canopy is different than what is provided on the kit's canopy. You can either live with it, or sand the canopy and provide your own framing. Other than that this is a really nice release and with the colors of the aircraft will look great on your shelf.
Many thanks are sent to Miniwing for the review kit.