Internet Modeler : First Look : Aviation
RSS News Feed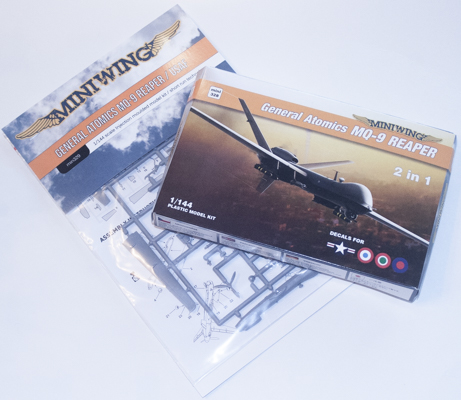 Miniwing 1/144 MQ-9 Reaper
Introduction
From Wikipedia:
The General Atomics MQ-9 Reaper (sometimes called Predator B) is an unmanned aerial vehicle (UAV) capable of remotely controlled or autonomous flight operations developed by General Atomics Aeronautical Systems (GA-ASI) primarily for the United States Air Force (USAF). The MQ-9 and other UAVs are referred to as Remotely Piloted Vehicles/Aircraft (RPV/RPA) by the USAF to indicate their human ground controllers.
The MQ-9 is the first hunter-killer UAV designed for long-endurance, high-altitude surveillance. In 2006, the then–Chief of Staff of the United States Air Force General T. Michael Moseley said: "We've moved from using UAVs primarily in intelligence, surveillance, and reconnaissance roles before Operation Iraqi Freedom, to a true hunter-killer role with the Reaper."
The Kit
One single Miniwing 1/144 MQ-9 Reaper consists of 34 pieces of gray plastic; if you pick up the boxed version you receive two Reapers in the box. The bagged kits consist of just one MQ-9. Decals for the boxed version are for an Italian, RAF, French and a US version from the 174th Attack Wing, New York ANG. The markings that come with the bagged kit are for a single Reaper from the 163rd Attack Wing, California ANG. Decals look to be in register.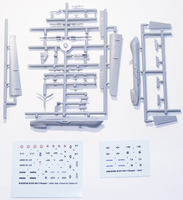 Construction is super-simple. Before gluing the fuselage halves together be sure to add the separate underside piece and the nose camera (which appears to be made to rotate). After gluing the fuselage halves together add the tail pieces (but leave off the prop until after painting) and then add the wings. Add the rear underside fin and you're ready to paint. Items like the landing gear and any external stores are best left until after painting and decaling. Pay attention to the instructions and add a gram of weight to the nose to keep the model on its nose gear. Note that the main landing gear are butt-joins so maybe some extra adhesion is wanted to be sure they stay in place once glued on.
Now you have a 1/144 MQ-9 that you can place next to Miniwing's Global Hawk.
Conclusion
Definitely a kit to beat-down any AAMS you may be suffering from and if purchasing the boxed version you can have two built MQ-9s in short order. Not a difficult kit, that's for sure.
Many thanks to Miniwing for the review kits.