Internet Modeler : First Look : Aviation
RSS News Feed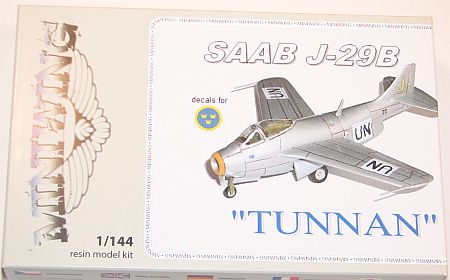 Miniwing 1/144 SAAB J-29B "Tunnan"
The Kit
The 1/144 Miniwing SAAB J-29B Tunnan consists of 14 pieces of tan resin and two vacuform canopies.  The ALPS-generated decals are for two schemes:
F6 Wing, Swedish Air Force
UN Forces, Kamina, 1962
Both machines are finished in overall silver with a yellow nose.  The Swedish machine also has a section of green on its fin.  The decals also contain the usual "seat cushion/belt" combination which in this scale is just right, especially if you leave the canopy closed.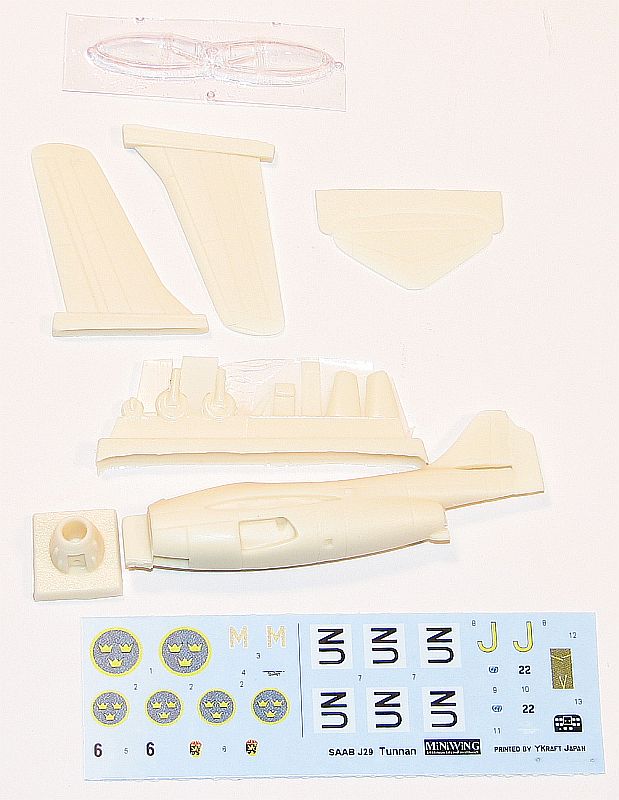 The resin is up to Miniwing's usual high standards of casting and I have found no flaws nor blemishes in its finish.  The only separate cockpit piece is the seat-back which is put into the cockpit "hole".  Not sure how much else would be seen through the canopy - when closed - so it could be "good enough".  If you want more, you'll probably need to hollow out the cockpit a little bit more as there isn't much room.
Once the seat-back is glued in then construction continues quickly.  Glue both wings on; the horizontal tail is slipped through a slot in the fin/rudder; and the separate forward-fuselage is glued on (which results in provides a convincing intake).  That's it.  You're now ready for painting.
After painting then add the landing gear/wheel combination (all three landing gear has the wheels molded in place with the landing gear struts) but be careful cutting the nose gear from the pour-block and cleaning it up.  Actually I would clean it up first before cutting it from the block, cutting down on the chances of breaking it.  You'll also need to cut the nose landing gear doors into three separate pieces.  The last step is fashioning what I think are pitot tubes for the tips of each wing.
Conclusion
Definitely one of the easier Miniwing builds with only 14 pieces.  In Miniwing's gallery on their site you can see a couple of dioramas modelers have made with this kit.  There is a lot of possiblity with Miniwing's SAAB J-29B.
Thank you to Miniwing for the review kit.