Internet Modeler : First Look : Aviation
RSS News Feed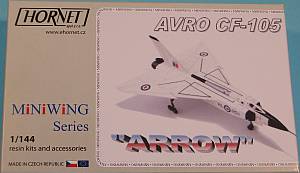 Miniwing 1/144 Avro CF-105 "Arrow"
Introduction
The CF-105 was a culmination of a study that started in 1953. It was to be considered both an advanced technical and aerodynamic achievement for the Candian aviation industry. It was to serve in the CAF from 1960 on. However, due to what is being called as "political reasons", the Arrow was cancelled before it could go into production.
The Kit
The Miniwings CF-105 consists of 20 pieces of tan resin and two vacuformed canopies. The resin pieces are extremely nicely cast with thin trailing edges and no bubbles. The kit also comes with a piece of plastic rod, which is to be cut into different things like nose pitot tube, landing gear struts, etc.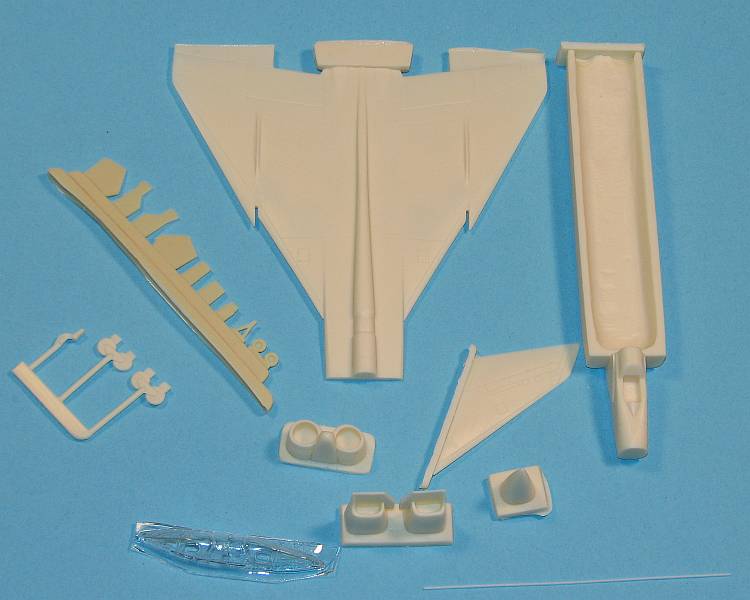 There are decals for four of the five delivered airframes, in different guises. Aircraft numbers 203 and 204 include orange noses, wing tips and most of the fin. The decals are much better than the ones in their
Draken
, as the dithering is kept to a minium.
Construction starts with adding the seat back to the rudimentary cockpit. Since, like the TSR.2, the view openings to the canopy are small, you won't see much inside anyway. Coupled with the seat-back and instrument panel decals, you have more than enough for a cockpit with a closed canopy. Once the seat is in the lower fuselage/forward fuselage piece, than the one-piece wing and upper fuselage is joined to it, followed by the nose, intakes, rudder and exhaust. And now you have a complete aiframe. However, I'm planning on keeping the exhaust off until the last minute so it can be painted separate from the rest of the model.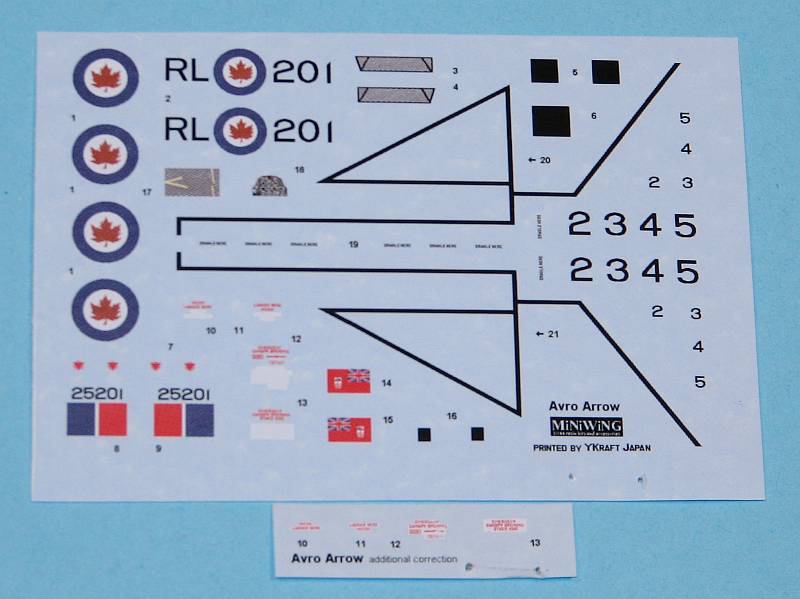 After painting the main airframe as you want, then the rest of the smaller details are added - landing gear, landing gear doors and gear struts, and now you have a finished CF-105.
Conclusion
The Miniwings 1/144 CF-105 will look excellent sitting next to the Wolfpack Designs TSR.2 I'm almost finished with. Since both were designed to be high-altitude, bomber interceptors, and both look a little similar, having both sit side-by-side on the shelf will not only look good, but also draw plenty of comments.
If you've been holding off buying a 1/144 resin kit because you're afraid of building a resin kit, than the Miniwings CF-105 is for you. Not many parts, coupled with a relatively easy finish will mean a kit finished in very little time.
Huge thanks to Miniwings for the review kit.