Internet Modeler : First Look : Aviation
RSS News Feed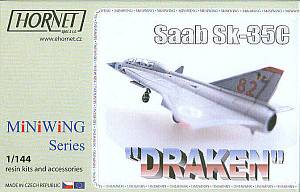 Miniwing 1/144 Saab Sk-35C "Draken"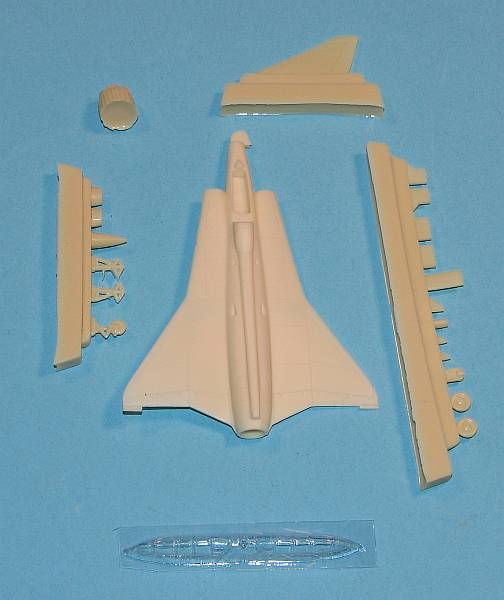 As with the J-35A, there's no time for an introduction, just straight to "the goods". The Miniwing Sk-35C also consists of 18 parts with all but the clear canopy in a tan resin. The canopy is vacuformed, and thankfully two are provided. I can see no airholes in the resin and all parts are very well cast. There are decals for only one scheme, that which appears on the box top. Decals appear to be ALPS-printed so care must be taken. In addition, there's a little bit of dithering going on with the decals but thankfully mainly on the national insignia, so there may be replacements out there somehere.

Even though it's a two-seater, the assembly couldn't be simpler. Put the two seat-backs in the cockpit then assemble the rest. That's about it. However, two items to keep in mind, and they both are for the cockpit. The decal sheet comes with not only instrument panel decals, but also decals for the back of the seats, which also provides a rudimentary harness. Looks good enough in 1/144 with the canopy closed, so it will really help. I mention this because these decals are not shown on the instructions and they go a long way to help spruce up the cockpit. The only other thing to be aware of is you'll need to separate the nose gear door into a left and right half (as the J-35A). Other than that, slap the pieces on and shoot it with your favorite NMF paint, then add the decals. Voila! A 1/144 scale Draken.
Conclusion
Couple this Sk-35C with the J-35A also reviewed this month, and you'll have a pair of unique items in 1/144th. Like the J-35A, this too is a very nice kit, one that should assemble in a matter of minutes and then be finished in a matter of hours. Nothing simpler, in my opinion. Plus, as far as I know, the only 1/144 two-seat Draken on the market.
My thanks to Miniwings for the review kit.