Internet Modeler : First Look : Aviation
RSS News Feed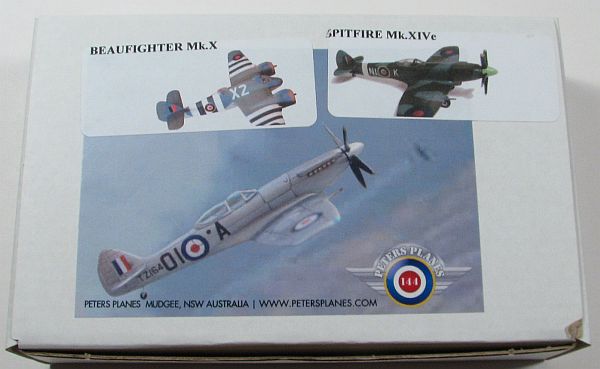 Peter's Planes 1/144 Spitfire Mk.XIVe
Introduction
According to some references, the Royal Thai Air Force flew around thirty Spitfires from 1948 until 1958. Thankfully one of these still exist in the Royal Thai Air Force Museum, a Mk.XIVe (actually could be considered a PR.XIVe).  You can find a few photos of it (use the search function) on the ThaiAviation.com site. If you're truly interested, you can find information on the details of the Thai Spitfires here.
The Kit
Peter's Planes 1/144 Spitfire Mk.XIVe consists of 12 pieces of white resin and two vac canopies.  No, one isn't a spare - one comes with "lighter" frames than the other, so you'll need to decide which one you like best.  All parts are masterfully cast and so far I haven't found any flaws.  The amazing thing is flying surfaces are close to being too-scale.  Nice!  Too many times you have 1/144 resin companies making their flying surfaces "chunky", and trying to thin them down to scale proportions can be time consuming.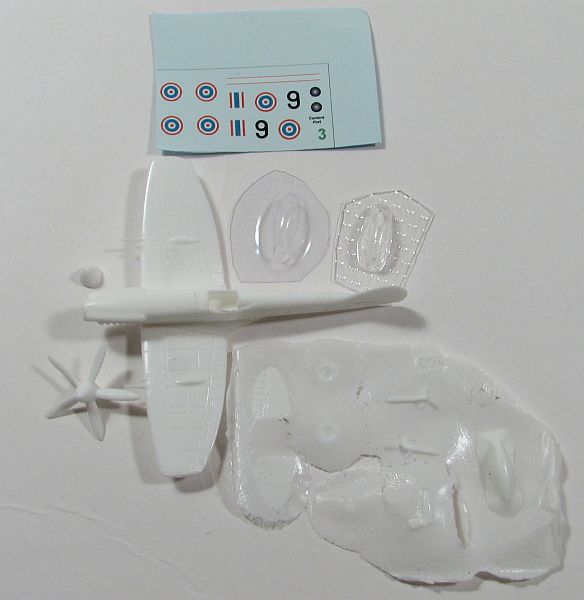 In fact, time consuming this model is not.  Most of the parts are molded along with the fuselage and wings.  The only separate parts to the kit are the horizontal tail surfaces; main landing gear molded in-situ with the gear doors; main gear wheels; tail wheel; and prop-and-spinner, or just a plain spinner if wanting to display the model flying.  Nice!  In addition there's a seat for the cockpit, which really doesn't require much more since the opening is small.  I'll probably still add a control stick, though, because - well - that's me.
Once you add the horizontal tail surfaces and do something to mask the cockpit, then you're ready for painting.  This model shouldn't take long to assemble and finish.
For decals you have your choice amongst fifteen schemes. When you make your purchase, the owner of Peter's Planes asks you which scheme you want from his selection, and he provides that scheme with your order.  The decals are ALPS-printed so care must be taken, naturally. I decided on the Thai scheme just for something different.
Conclusion
This is an excellent kit - top notch not only in 1/144 scale but also in resin. The amount of finesse and detail on this Spitfire is just amazing and must be seen to believed. I definitely recommend this model highly to the 1/144 builders.
Many, many thanks to Peter's Planes for supplying this to review.