Internet Modeler : First Look : Aviation
RSS News Feed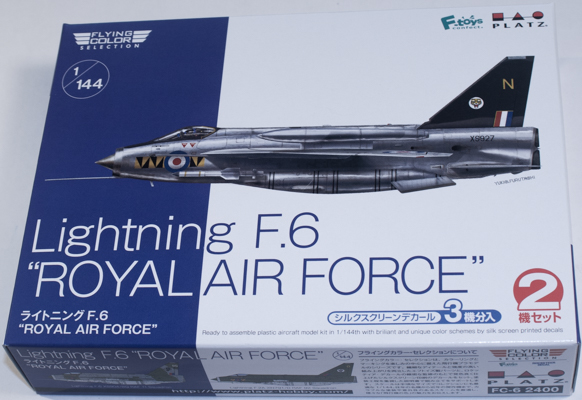 Platz 1/144 Lightning F.6 "Royal Air Force"
Introduction
From Wikipedia:
"The English Electric Lightning is a supersonic fighter aircraft of the Cold War era. It was designed, developed, and manufactured by English Electric, which was subsequently absorbed by the newly formed British Aircraft Corporation. It was then marketed as the BAC Lightning. The Lightning was the only all-British Mach 2 fighter aircraft. The Lightning was used by the Royal Air Force (RAF) and the Royal Saudi Air Force (RSAF). Although it was the RAF's primary interceptor for more than two decades, it was never required to attack another aircraft."
The Kit
The Platz 1/144 Lightning F.6 actually consists of two models. Each model consists of 31 pieces of gray, injected plastic and one clear, injected canopy. Decals are for three aircraft:
Lightning F.6 XS927/N of RAF 74 Squadron (finished overall in "speed silver")
Lightning F.6 XS904/BQ of RAF 11 Squadron ("green" and "gray" with "speed silver" undersides)
Lightning F.2A XN791/D of RAF 92 Squadron (overall "green" uppersurfaces and "speed silver" undersides)
Decals appear to be top notch.
There isn't much to this kit and it should build up relatively quickly. After painting the cockpit pieces black (along with the interior of the cockpit sides, although maybe add some color "here and there" to break things up) then glue the seat and instrument panel to the floor and add the floor to one fuselage half. Nothing is mentioned about nose weight but I would be surprised if it's not needed, especially if you're finishing your model gear-down (yes, it can be built gear-up). Once the fuselage halves are glued together then construction continues quickly.
Glue the wings and horizontal tail pieces to the fuselage along with the exhaust (which might be best added before painting (although painting the insides of it first) just in case of gaps), nose cone and canopy. One thing you might want to consider is snipping the large mounting tabs from the canopy prior to gluing the canopy down, or if not, at least painting them black. They would stand-out otherwise.
The next steps are where you decide if you want to finish your model gear-up or gear-down. If gear-up then definitely add the wheel well covers prior to painting; if gear-down, wait for those pieces until after painting. Which ever you decide, though, definitely add the underside strakes prior to painting.
Conclusion
This is an excellent example of the Lightning in 1/144, one that was originally released as a finished "gashapon" by F-Toys, now released as a "true" kit by Platz. Definitely recommended.
My thanks to Platz for sending the review kit.