Internet Modeler : First Look : Aviation
RSS News Feed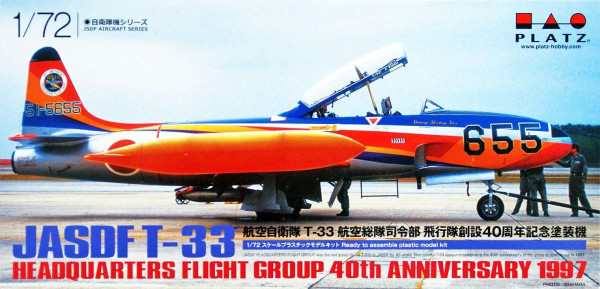 Platz 1/72 JASDF T-33 "Headquarters Flight Group"
This is the new Platz T-33 kit in the "JASDF Headquarters Flight Group 40th Anniversary 1997" boxing. The kit consists of 55 parts on 5 sprues. The plastic parts are molded in a light grey. Surface detail is by way of recessed panel lines, with raised detail where appropriate.
There is minor flash on some of the parts, with sink marks confined to any piece with recessed detail on both sides, such as all of the landing gear doors, and the port side of the lower fin. The sprue attachment points are very small and it will be easy to remove the parts without damage.
The overall detail of all the parts is very good, especially for a 1/72nd scale kit. This is the type of aircraft kit that will look superb with a careful wash of the panel lines.
The cockpit is convincingly busy with raised detail on the sidewall consoles and instrument panels, upon which you can add decal panels to increase the realism in these very visible areas. The only things you need to add to the cockpit are either a pair of pilot figures or 2 sets of seat harnesses.
The wheel wells are of an appropriate depth. The landing gear and wheels are extremely well executed. The air brakes are depicted open and you also get a pair of wing tip fuels tanks.
The instructions are well done, with a parts map and color call outs for GSI Creos/Mr. Color and Testors Model Master paints. The instructions are well illustrated with a logical, easy to follow build sequence.
The decal sheet (by Cartograph of Italy) is spectacular. The colors are bright, the printing is crisp, legible and in register. There are over 100 decals on the sheet, so you will be kept busy applying them. Many of them are tiny so get out your Optivisor or preferred magnifying device. The sheet has marking options for 2 different natural metal aircraft:
"51-5655", JASDF Air Defense Command 40th Anniversary Headquarters Flight Group, Iruma Air Base, 1997. This stunning aircraft has yellow, red and blue stripes on most of the upper surfaces, and orange/green wing tip fuel tanks.
"51-5655", JASDF Air Defense Command Headquarters Flight Group, Iruma Air Base, 1997. This is the same plane, minus the 40th anniversary markings, with the same orange/green wing tip fuel tanks.
This is a top notch aircraft kit. It is accurate and well detailed, nicely molded and it will be a nice build. I think that despite the small number of parts, Platz's T-33 kit is intended for the more advanced modeler. All that you really need to add is 2 sets of seat belts and you will be good to go.
I recommend this kit and I will like to thank Platz for the review sample.