Internet Modeler : First Look : Aviation
RSS News Feed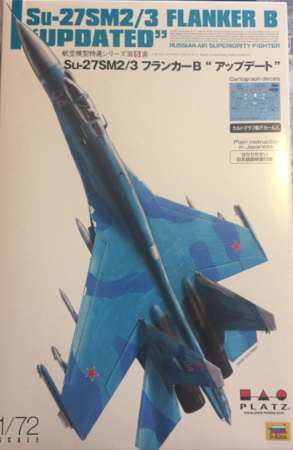 Platz 1/72 Su-27M2/3 Flanker B "Updated"`
Platz's Sukhoi Su-27SM2/3 Flanker B kit is a collaboration between Zvezda (plastic parts) and Cartograph, Platz and Rocketeer Design (decals). The sturdy box contains 172 injection molded parts on 8 sprues.
My initial impressions of the kit are positive. The parts are well molded with flash confined to the upper fuselage and some tiny detail parts. These pieces are some of the smallest injection molded pieces that I have ever seen and they will be hard to hold, let alone paint.
The sprue attachment points are well located so it will be easy to remove the parts without damage. I would use sprue cutters or photo-etch scissors to remove the smallest parts from the sprues so that you don't lose them.
The surface detail consists of finely recessed panel lines with raised detail where appropriate. You might want to use scribing tools to chase the panel lines. They are a very fine and may disappear under the paint unless you spray extremely thin coats.
The upper fuselage is divided into 2 sections and the lower fuselage is a single piece. I am not an expert on Sukhoi aircraft but in my opinion it appears Zvezda has captured the graceful lines of this enormous aircraft.
The cockpit is a bit basic. You get decals for the side consoles and instrument panel. The ejection seat is also simplified in detail. If you want an open cockpit I would use for an aftermarket resin seat or the kit's pilot figure, which is pretty good. You have your choice of seated or standing pilot figures. There is also a boarding ladder and a set of wheel chocks. These are nice touches.
The landing gear is very well executed. The front gear in particular is complex and highly detailed. The rear landing gear is convincingly beefy and the 2 piece rear wheels look the part. The kit also includes closed landing gear doors so you can also build the Su-27 "in flight".
The exhaust nozzles are well executed. Get out your favorite metallic paints and go to town in this area. The Su-27SM2/3 has 10 hard points for armament, including a pair between the engines on the lower fuselage. There are 8 different types of under wing mounts for armament and they are all well detailed. The kit includes R-27R, R-27ET, R-73 and R-77 guided air-to-air missiles and Kh-31A/P guided air-to-surface missiles. These missiles are well executed. The fins are slightly over scale but you can thin these down for greater realism.
The box bottom also includes a 2 part travel/display stand that you can cut out and fold. The instructions indicate that you can use the stand to transport the model. I suppose that there is only one way to find out...
The instructions are well done. They include a parts map, excellent illustrations, and an easy-to-follow, logical build sequence. Color callouts are for GSI Creos (Gunze) Mr. Color and Testors Model Master paints, respectively.
The decal sheet is one of the highlights of the kit. It's a collaboration between Platz and Rocketeer Decal with printing by Cartograph of Italy. The printing is top notch. The colors are crisp and bright, and everything is legible and in-register. Besides numerous stencils, the sheet includes an instrument panel and cockpit sidewall consoles, lower engine inspection panels and chaff/flare dispensers. There are markings for 2 different aircraft:
"Red 04", Su-27M2, The 4th Center of Combat Aviation and Conversion of Frontline Aviation, Lipetsk, 2013. This plane is overall Light Blue with a Medium Blue pattern on the upper surfaces with a white radome.
"Red 44", Su-27M3, 6972nd Aviation Base (Krymsk, Krasnodar Krail), 4th Air and Air Defense Forces Command, 2011. Overall Light Blue Grey with a Medium Blue Grey and Grey pattern on the upper surfaces and a white radome.
Conclusion
This is a great kit of an important post Cold War Soviet fighter. It is accurate, it is well detailed and both marking options are colorful and interesting. I recommend this kit for experienced modelers comfortable working with tiny parts. I would like to thank Platz for the review kit.
References:
1) https://www.milavia.net/aircraft/su-27/su-27_weapons.htm (Information on Sukhoi armament)
2) https://i0.wp.com/su-27flanker.com/wp-content/uploads/2015/03/15017942491771239157411062451419012114525.jpg?fit (Image of Sukhoi Su-27 armament)