Internet Modeler : First Look : Aviation
RSS News Feed
Revell-Monogram's "Special Edition" B-26 Marauder in 1/48 Scale

Fast, agile and dependable, the Martin B-26 Marauder was arguably the finest medium bomber of WW2. It was a formidable weapon in the hands of a skilled pilot. In the hands of anyone else, its high wing loading, high landing speed, and other "quirks" earned it the name "Widow Maker". 5,157 Marauders were built between February 1941 and March 1945, 522 of which went to the RAF and SAAF for service in the Mediterranean. From their combat debut in April 1942, they served continuously on all fronts and in all theaters. Despite intense combat, by the end of the war Marauder crews had the lowest loss rate of any allied aircraft operating over Europe. One aircraft, the 9th Air Force's "Flak Bait", became the first Allied bomber to chalk up 200 combat missions - and even more amazingly, survived the war with more than 300 patches on the wings and fuselage, covering over 1000 flak and projectile holes.
When this kit was first released in 1978, it was state of the art. Though it shows its age, the basic kit is still pretty darn good some 20 years later. Upon opening the new-standard flimsy clamshell box, you find four large sprue trees of grey plastic, and one of clear. Why they bag the grey parts and not the clear ones is a mystery to me, since the clear are more prone to scratching. There's no flash, and only a few sink holes and ejector pin marks - none in glaring spots. Surface detail is raised throughout - but it is fine and crisp. Clear parts are very clear. Parts are included to build the blunt tails of the later -B and -C series, as well as the "pointy" tails of the earlier -B series aircraft. I haven't scaled the kit out, but it looks like it sports the larger tail and longer wingspan introduced with the B-10 series. One nice feature is the three crew figures - one standing, and two seated.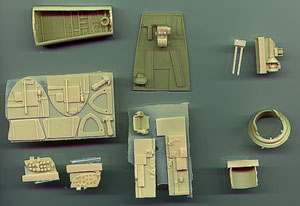 What makes the kit a "Special Edition", though, are the resin parts. Included is a small bag containing 20 parts, comprising cockpit details, sidewalls, bulkheads, nose gear bay, main gear bay bulkheads, and parts for the dorsal turret. These are crisp and defect free. The details are a significant improvement over what's molded into the model. Alas, they have only included barrels for the two turret machine guns - and the kit could really use replacements for all the defensive armament. Looks like I'll have to get another Verlinden WW2 US MGs set when I build this....
Decals are provided for three machines, all operating from Italy in 1944. You have the choice of "Thumper II", a natural metal finish B-26C-25 from the 441st Bomb Squadron, 320th Bomb Group; its OD-over-Grey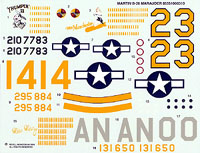 sister ship "Miss Manchester", a B-26B-50; and the OD-over-Grey "Miss Mary", a B-26B-16 of the 553rd Bomb Squadron, 386th Bomb Group. Decals are all silk screened and perfectly registered.
Rounding out the kit contents is a comprehensive 15-page pictorial instruction booklet. Steps are clearly marked where one will need to swap plastic parts for resin, and which bits to use when making the different tails. The painting guide is detailed and easy to read. All that's missing, in fact, are the little photos R/M have been inserting in other Pro-Modeler instructions of late (and they're not really necessary for an aircraft as well documented as the B-26).
All in all, R/M's update of this almost-classic kit seems like a very good deal. It's certainly worth the $20 hobby shop price. Those suffering from AMS will no doubt want to find photoetch bits to super detail it, but for the rest of us looks like it will be as much fun to build as I remember the original issue was.