Internet Modeler : First Look : Aviation
RSS News Feed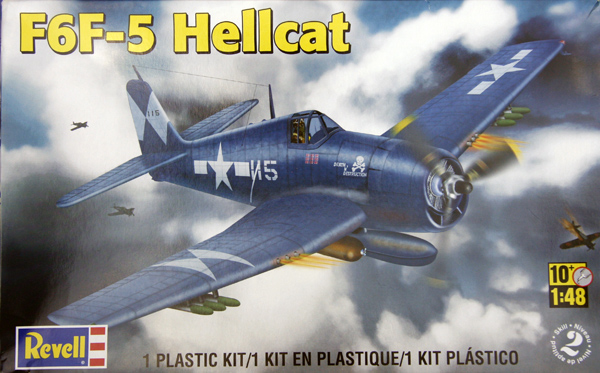 Revell's Classic 1/48 F6F-5
If you were building models in the 1960s, you remember some of Monogram's 1/48 models with action features such as landing gear that can be flipped up and down and wings that can be folded. Panel lines were raised and, boy, could you feel the rivets by running a finger across the skin of the wings and fuselage! Detail, as we know it nowadays, was sparse--basically, the pilot in the cockpit was it. So it's back to the past when you buy Revell's re-issue of Monogram's 1/48 F6F-5 Hellcat (kit #5262). Yup, that old kit is still around, not just on the nostalgia shelves of the hobby stores but among the currently issued models. Yes, it's baaack.
The Real Hellcats
At this point in the review I usually digress into a short history and this one will be short, not because the Hellcat doesn't deserve a long write-up but because its history is so well known. Made by Grumman as a follow-on to its F4F Wildcat, the Hellcat contract was let in mid-1941 and its first flight occurred a year later. Not until Sept. 1943 did a Hellcat shoot down a Japanese plane, an Emily flying boat. Whatever air superiority the Japanese Zeroes and other aircraft were having over the U.S. Navy fighters evaporated when the Hellcats took to the sky in ever-increasing numbers. By the end of the war, Hellcats accounted for about 56 percent of all Japanese aircraft shot down - 5,163 by the Hellcats. Hellcats downed another 60 enemy aircraft in other theaters and with Great Britain's Royal Navy.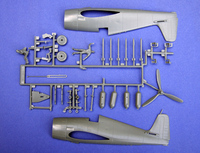 *Of the 12,275 Hellcats made, at least 7,870 were the F6F-5 variant. Propelled by a 2,000-horsepower Pratt and Whitney R-2800-10 radial engine, the F6F-5 had a top speed of 380 mph, a combat radius of 945 miles and a ceiling of 37,300 feet. Armament was six .50-caliber machine guns with three in each wing. It could carry up to four 500-pound bombs or 5-inch rockets on underwing racks or a Mk-13 torpedo (I have yet to see a photo of a torpedo-carrying Hellcat but if Grumman said it could be done, I suppose it was tried sometime).
The Model
If you wonder if the kit has been improved....well, if you count new decals as the improvement, then yes. Otherwise, no. There's no cockpit detail, nothing to see in the wheel wells either...not even on the inside of the landing gear covers.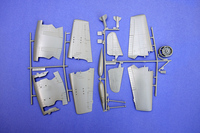 I could be wrong but I recall the original was issued in blue plastic. This issue is medium gray styrene plastic that comes secured in two plastic bags; the small one-piece closed canopy and windscreen are in one of the bags with the bigger gray sprues. In all you get 55 pieces which include a standing deckhand, a seated pilot, six rockets, two 500-pound bombs and a drop tank. The decals, representing Hellcats of two squadrons, are not bagged.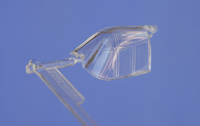 Basically, this is a starter kit. I remember building it during its first issue but can't recall how well I built it. If it was anything like I typically made around the age of 12, I possibly had it assembled within about an hour with some parts softening over the next few days from excess glue, but don't consider my early kit-building efforts. This kit can build up into a nice model out of the box and without adding dozens of dollars worth of resin and photo-etch details. Just take time and do a good job with the basics. If I were to build this, I wouldn't fuss with the action features; I'd just build it wheels down and with the wings straight out. If I didn't put the pilot in it to block the view of the rest of the cockpit, I'd put in some aftermarket resin seat and leave it go at that.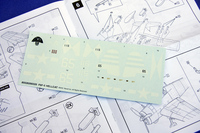 If there was ever a simple kit to paint, this one possibly takes the cake---spray everything Gloss Sea Blue (FS 15042) including the inside of the wheel wells and landing gear doors and you're pretty much done. If you think someone will see the inside of the cockpit, sure, go ahead and spray it zinc chromate green as per the instructions. Otherwise just do a good job on the pilot and paint the landing gear struts silver where needed.
Decals allow you to show an F6F-5 of VF-83 on the USS Essex in 1945 (it was shared by three pilots, each of whom became an ace) and another F6F-5 of VF/VBF-12 on the USS Randolph, also in 1945. In both versions, large white decals cover a lot of the vertical stabilizer and rudder; I'd be temped instead to do some masking and spray paint those areas white.
Conclusion
You aren't going to get much more out of Revell's 1/48 F6F-5 than anyone did in the 1960s other than some different and better decals. It's a good simple kit for anyone who's getting into modeling at any age or returning to modeling after some years away. It should be a quick and easy build. Its MSRP is $17.99.
Our thanks to Revell for the review kit.